It's my belief that stewardship is the backbone of any thriving community. You take care of your community because, well — your community takes care of you. So in that spirit, with the privilege I have working for a sustainably-minded company, I figured where better for us to do some good than the place that has been so good to me? We set off at the crack of dawn, caught a wave or two, made some iced coffees, and invited our NYC friends and family to come help us clean the shores of Rockaway Beach.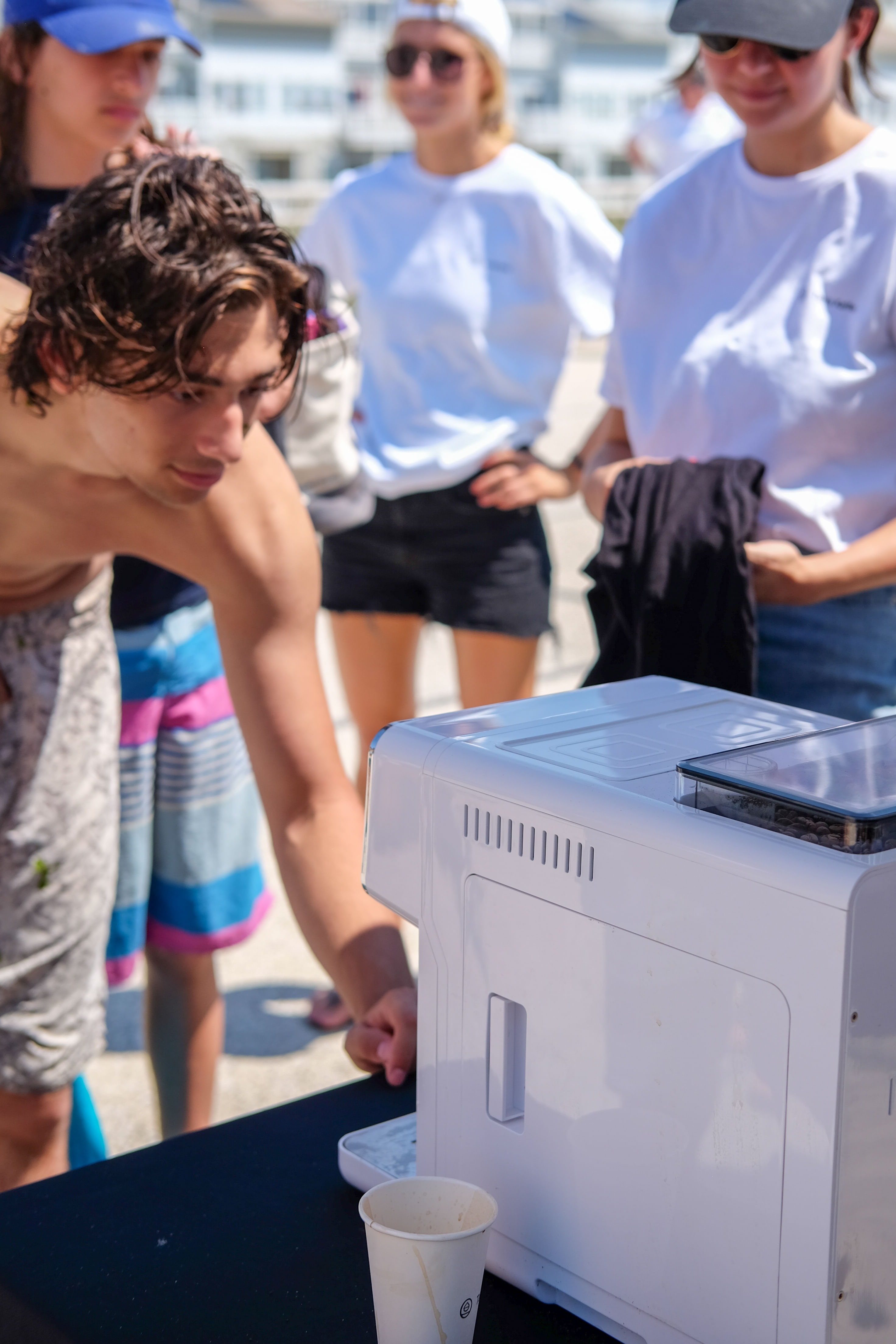 A fellow beachgoer tries out the TK-01.
While a 95º F Saturday in July might be the perfect excuse to Netflix and chill (with an emphasis on the chill), our Terra Kaffe community was up to task! Our trusty TK-01 graced the Beach 67 boardwalk, along with sunscreen-clad members of Team TK, offering delicious iced espresso to many parched passers-by. The only catch? Take a (biodegradable) trashbag, a pair of gloves, and go make the beach cleaner than you found it. And we found trash – lots of it. We also found sharks, but more about that another time… More importantly, we found locals and non-locals, surfers and non-surfers (really anyone who happened to find themselves in Rockaway that day) working together in caffeinated camaraderie. Coffee drinkers of all stripes, united simply by the shared want for a cleaner shoreline.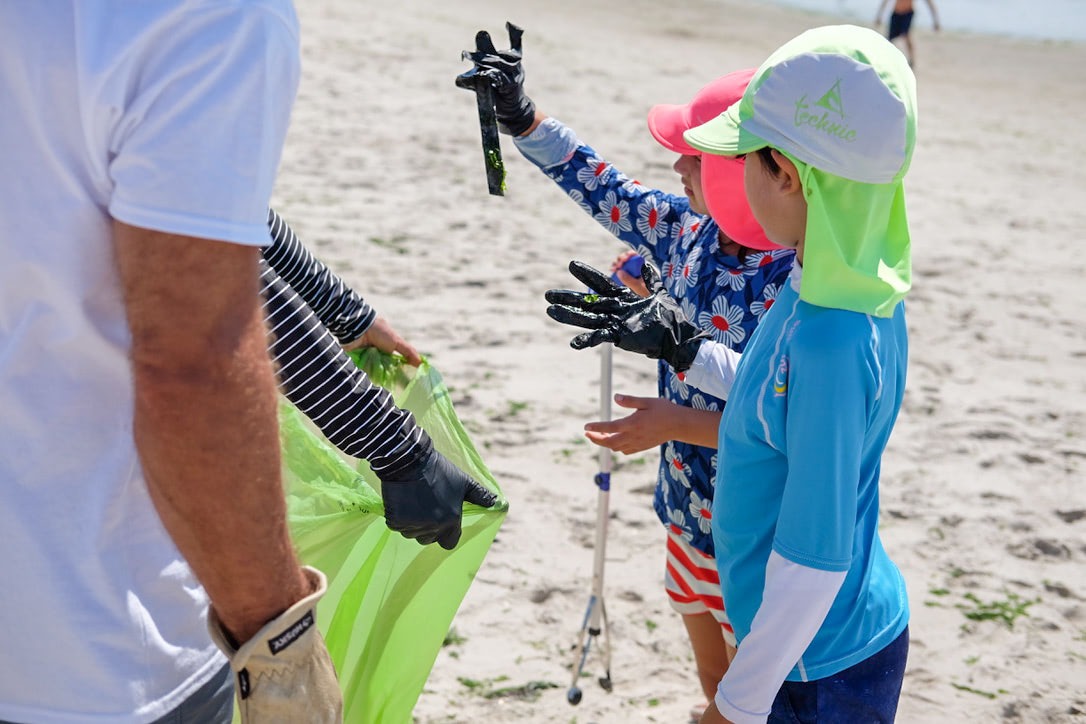 Even the youngest among us put on their gloves and got to collecting!
With most of the local cafes not being open for a few hours, my fellow dawn patrolees (a surfer's term for the first people on the beach at sunrise) were about as stoked as this guy for their chance to have some post-surf espresso! We traded notes about the waves, different boards, and the notorious summer crowds — who sometimes leave notorious amounts of trash behind. While there may have been more than a few party waves (wave with multiple surfers riding on it; often dangerous and not ideal), we were all pretty content to share the water, a fine cup of espresso, and some great conversation about the brighter future ahead for Rockaway.
Speaking of brighter futures…Just down the boardwalk from us, we saw another tent set up for the Laru Beya Collective, a non-profit organization dedicated to empowering the historically excluded youth of the Far Rockaways through surfing. Even a few campers came up to grab a (DECAF!) iced latte. That is the truest sense of community building: It's looking around, listening to others, making them a coffee, learning their history, championing their stories, and investing time and energy to make that space better for everyone – especially the kids! Click here to visit Laru Beya's website, learn more about their mission, and find ways to get involved.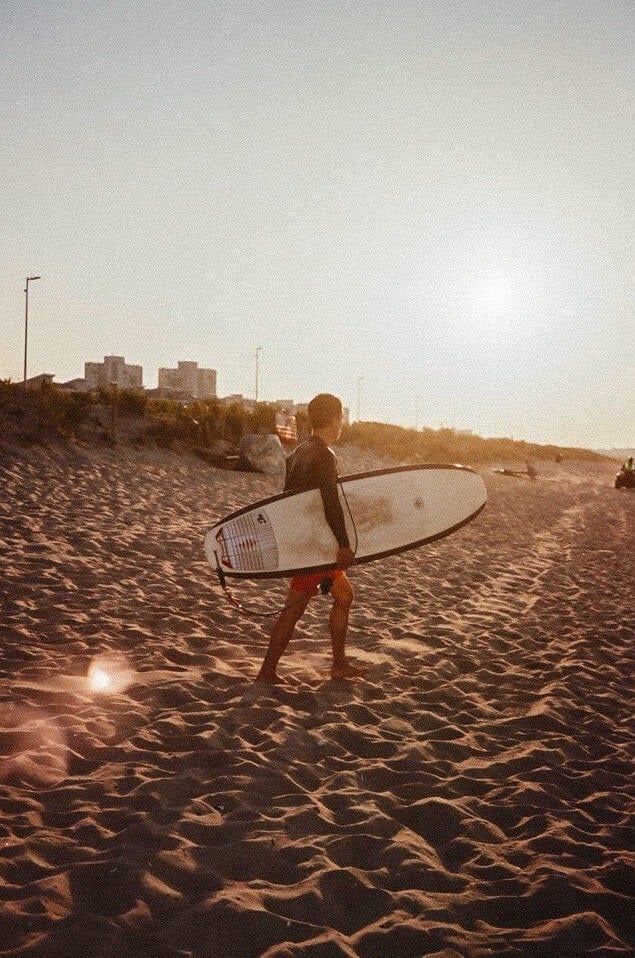 The early patroller gets the wave.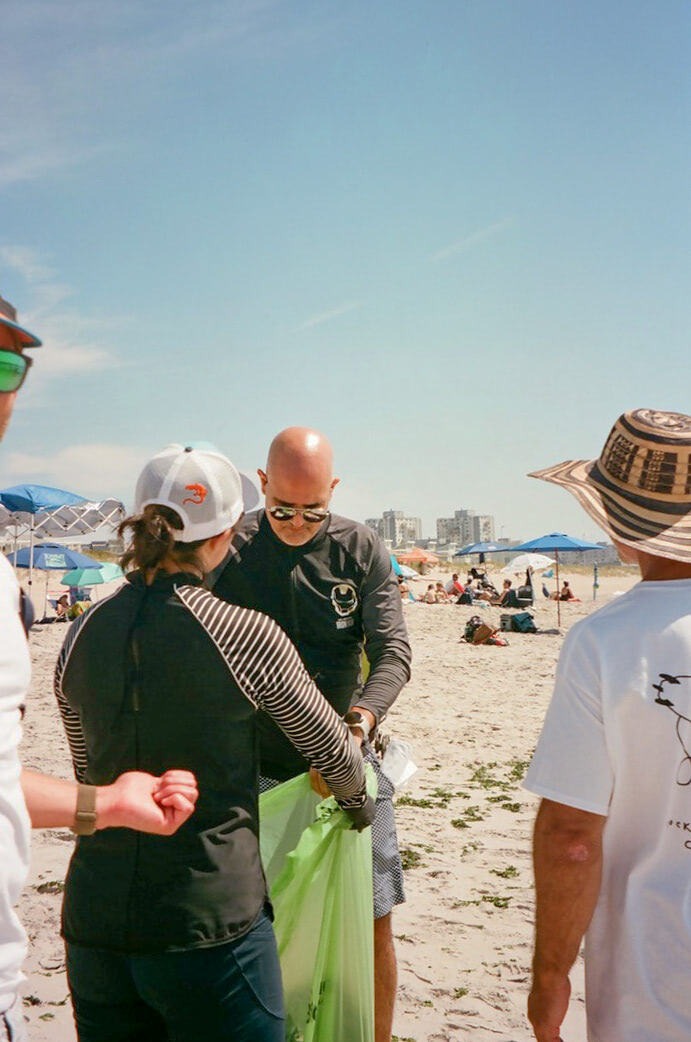 Trash pickup is a team effort.
As my coworkers (most of whom only make the trek to the Rockaways once or twice a year) and I sat on the beach after the event, it was plain to see that the gratitude was shared. Maybe they didn't dip into the water to catch a wave, but they were able to share a cup of joe with my chosen-community, a community that they perhaps didn't even know existed. While cleaning the beach was the primary goal of our being here, a part of me was also proud to show off my favorite part of New York. After the trash was properly discarded, the tent folded, and the TK-01 packed up, we coasted down the block to a Rockaway mainstay, The Almeda Club. There, owners Joe Falcone and Jackson Graham told their version of why The Rockaways are so much more than just a surf break. Go check it out here.…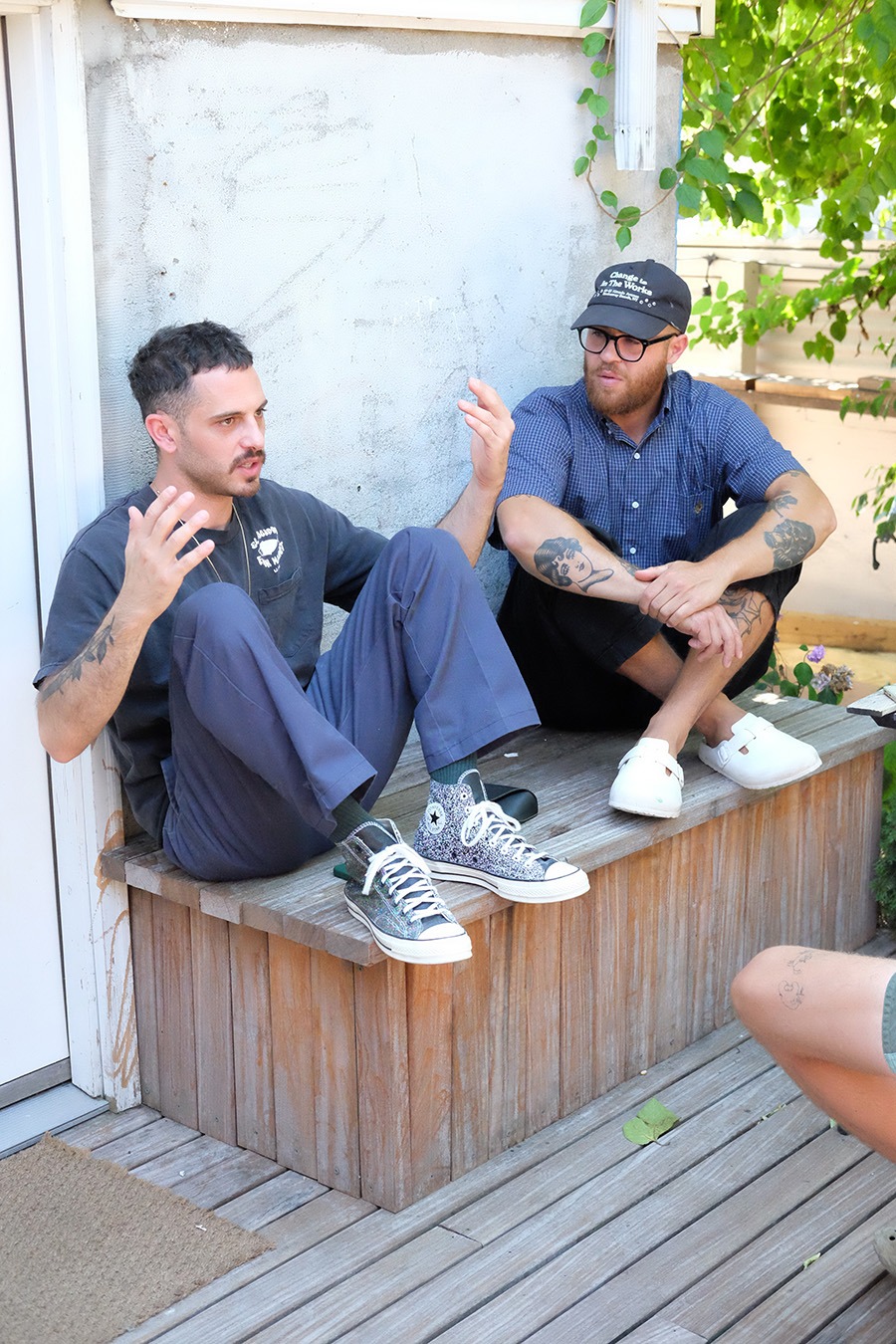 Joe Falcone (left) and Jackson Graham (right) talk to us about The Almeda Club.