With every article that passes through the rigorous TK Mag publication process, there is a golden rule that must be followed. That rule? Ensure our dear reader walks away with a sense of inspiration and, whenever possible, a feeling of Gemütlichkeit, the German word used to describe the inviting and warm sensation of a properly cozy space.
With this one, we've followed our golden rule to perfection. We know that everyone in our community is an individual, so we've developed a lookbook of sorts, wherein we categorize a few of the distinctive styles, moods, and designs in which a TK machine might call home. How will you transform your coffee machine into a true centerpiece?
Far be it for us to tell you how to live your life, but we think you'll love this mood board in article format. If you walk away with inspiration, we're happy. If you walk into a newly transformed space with an equally new feeling of Gemütlichkeit, we're überglücklich (overjoyed).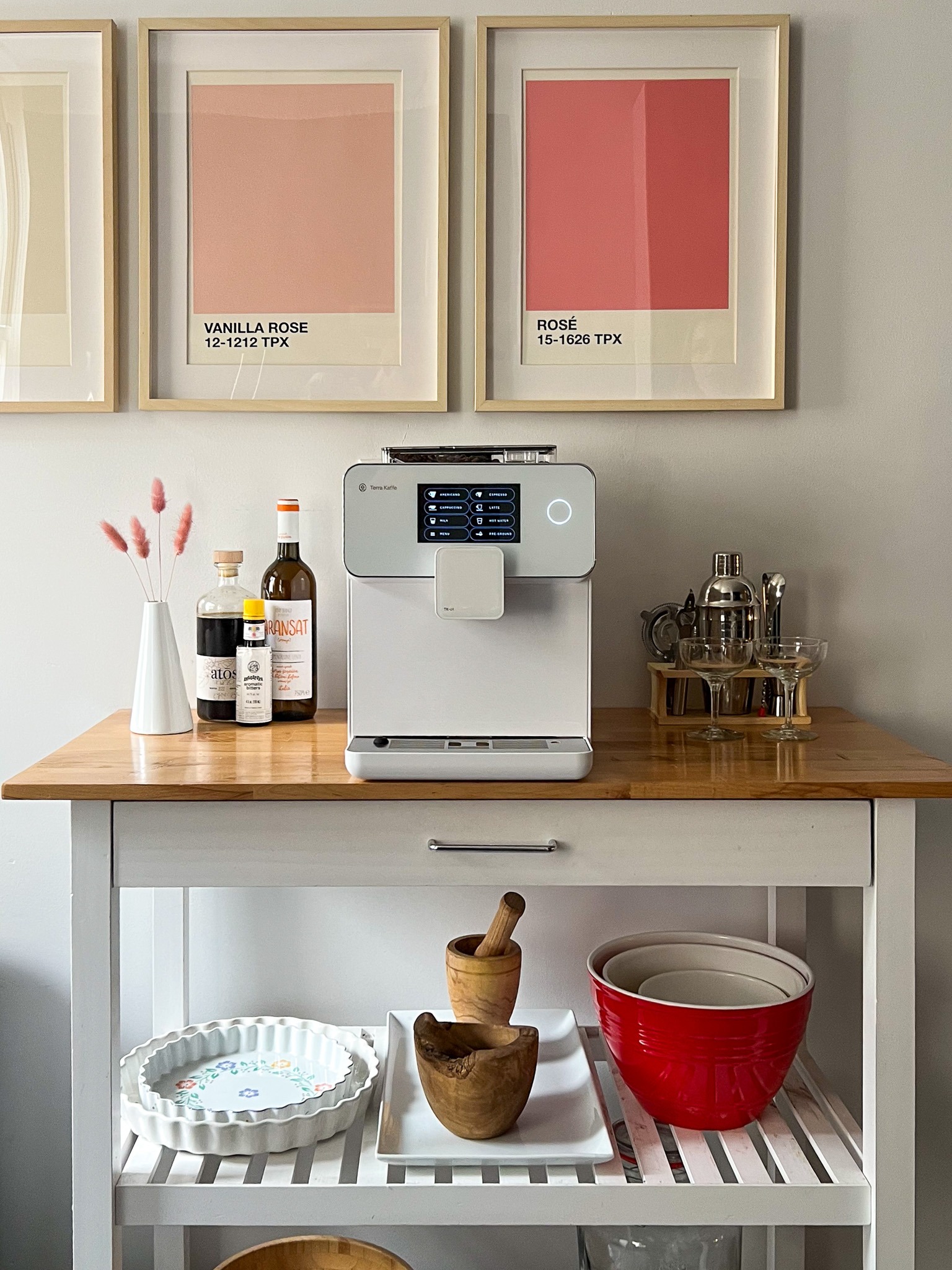 1. A vision board for the host who serves more than drinks
There are over a million (maybe a billion?) recipes for espresso martinis, but we've found great success in (and many requests to share) the recipe by Atōst. Their version calls for 2 shots of their limited-edition coffee apéritif, a shot of espresso, and a good cold shake (garnished with coffee beans, as is customary). Not feeling a 'tini? We always keep a bottle of the amber elixir on hand (read: funky skin contact wine), which this week happened to be Aransat. Not to be outdone by yet another pretty color, Pantone presents a swatch of room-enlivening color posters to choose from — why settle for just one?
It's giving…Ina Garten? Bust out the coupes and shake out espresso martinis to your heart's content. Your TK-01 becomes a straight-up assistant barkeep, whether you keep it on the counter or wheel it to the living room on your bar cart. Serving tray not pictured, but this decidedly charming setup is made for the head of the household who ensures every guest is taken care of with a drink always in hand.
2. Design inspo for the baking-obsessed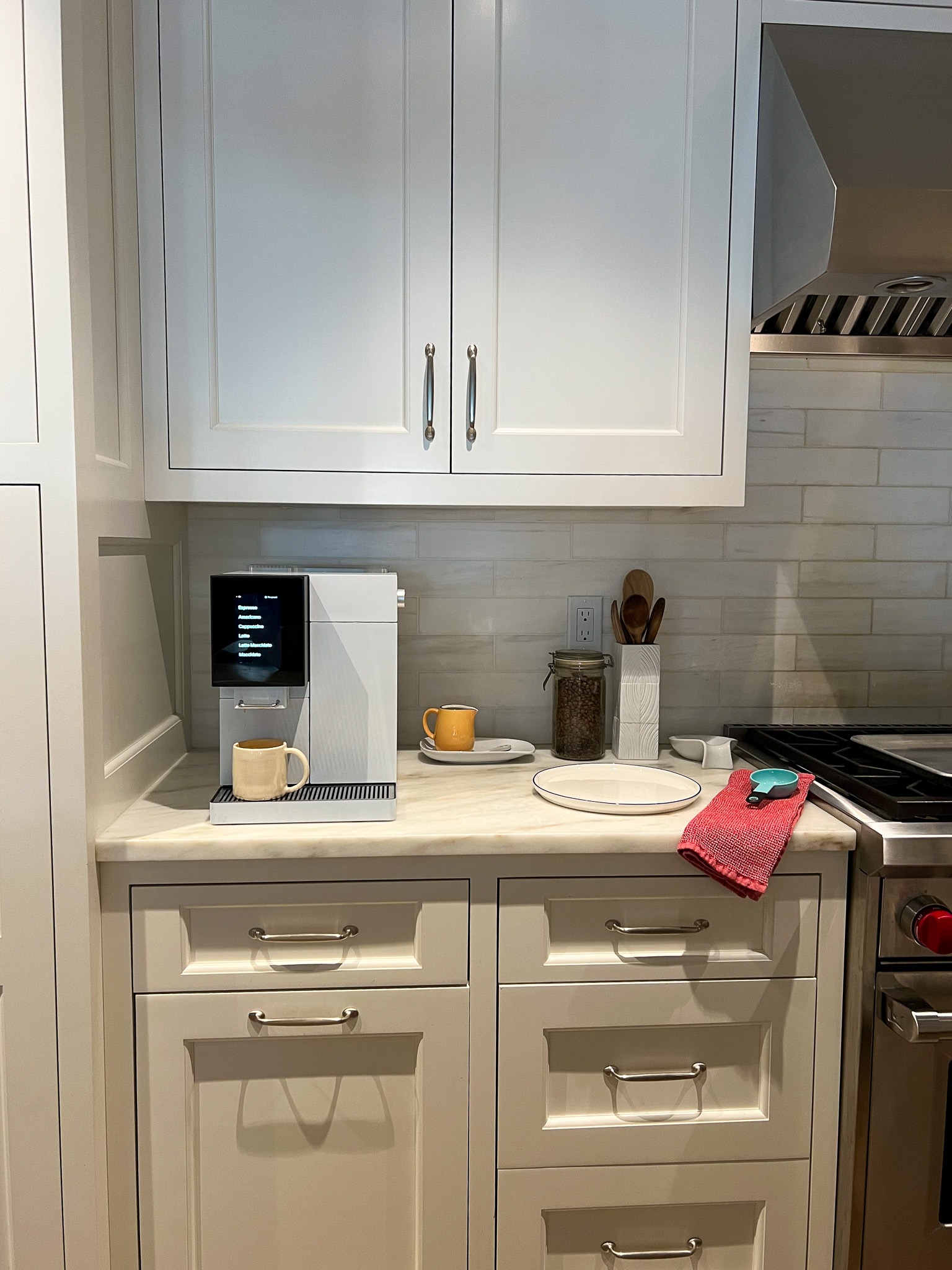 So you can't necessarily convey the scents of fresh-baked cookies and fresh-ground coffee hanging in the warm air, but you can get the picture here. We've said it many times before — if you're using chocolate for a baked good, you better be adding espresso as well. And if you aren't using chocolate? Then espresso goes on the side. Or on the inside (of you, while you're baking).
In this case, we lined a tray with some of Christina Tosi's peanut butter cookies (any excuse to let the dogs lick the spoon) and sipped Americanos from Aziza Mirzan's hand-spun mugs. Nothing sticks to clothes better than flour and sticky cookie dough, so we donned the classic Headley & Bennett Georgia Blue Denim Apron, perfect for protecting against stray schemers of butter and excited puppy paws — which reminds us, be sure to take them on a walk before the timer goes off.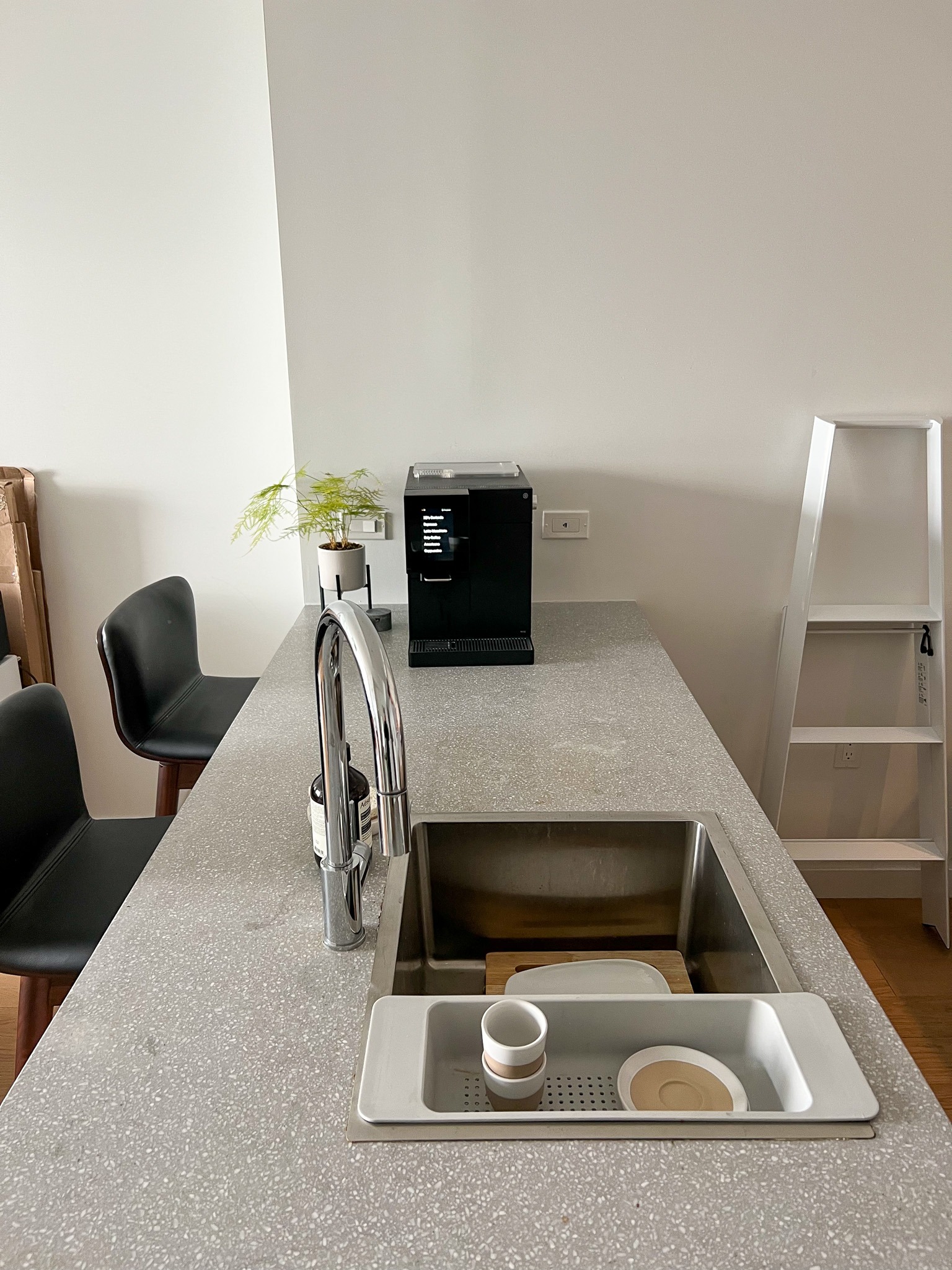 3. An aesthetic for the minimalist techie
Make your coffee machine the most maximized piece in your otherwise minimal place. TK-02 fits right into a subdued (yet pointedly decorated) countertop. Form always follows function in your world, so why should your coffee station be any different? Keep it simple, keep it suave, and keep it stylish.
For this setup, we elected for the cool, impervious design of concrete, ceramic, and cereal (note the pop of color that dried wheat brings to any room — an industrious and complimentary warmth, to be sure). One of our favorite understated pieces of the moment (and for many moments to come, most likely) is the Espresso Cup from notNeutral's brand-new Pico line of drinkware. Only halfway glazed (with exposed ceramic at the base), the finished product is evidently unfinished, which is also true of your latest app, firmware, video game, or headphone review. Grab a quick shot of espresso and get back to work! To further prove that sterile can be stylish, what else but Aesop soap?
4. The perfect vibes for the mellow musician
In German, uns means "us," and in English "uns, uns, uns" is the sound of a bumping track as you're spinning your turntable for the masses, which makes for a beautiful metaphor of togetherness and music. But perhaps you like to keep your house music separate from your house parties, which is respectable — work/life balance, right? You leave work at the office and opt for a distinctly quieter vibe in your domicile.
If your coffee machine is the most technically savvy appliance you have in your home, the turn table is a close second. We would take both with us to a desert island, since both TK-01 and the Technics SL-1210 MK2 produce good vibrations in their own ways. And even if we like to keep the party outside our front door in this particular mood board, we can't help but invite a little inside. Our favorite "scrunched" cup is fondly reminiscent of many a kickback. And you know house rules — shots are mandatory (espresso shots, that is).