As the old folktale describes, "open sesame" is the magic phrase that opens a cave containing a bounty of treasure. In this case, it's one of the few steps you'll take to make a latte just as priceless as jewels and gold. As the nutty, toasty flavors of fall start lining the shelves of your local supermarket, you may feel the compulsion to relinquish yourself to the autumnal institutions of Pumpkin Spice, Caramel Apple, Maple, Cinnamon, and so forth. At the same time, you may also find yourself with the contradictory urge to hold on to the last traces of summer. How do you reconcile these feelings?
Enter the Black Sesame Latte, an iced concoction that splits the difference between sunshine and sweater weather. It's an icy, toasty treat that you'll savor into the sunset on the road toward fall.
Special Equipment
Saucepan
Blender or spice mill (optional)
Stainer (optional)
Ingredients
1 cup granulated sugar
1 cup water
1/2 cup black sesame seeds (ground or whole)
1-2 shots TK-made espresso
Milk of your choice (we recommend full-fat oat!)
Ice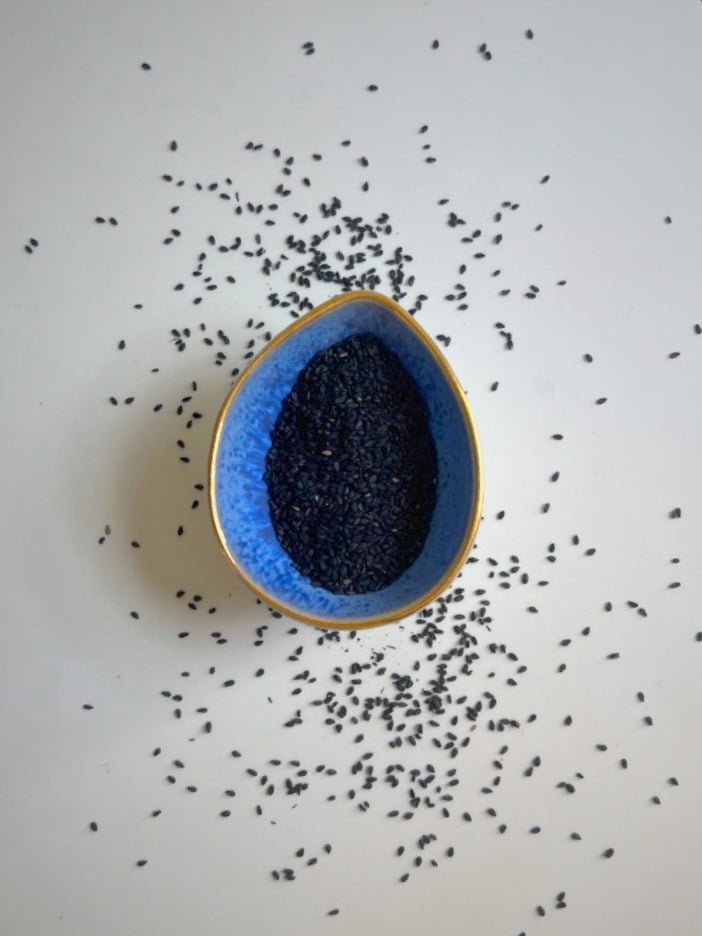 Toasted black sesame seeds bring a bright, toasty flavor to your morning latte.
Directions
Black Sesame Syrup (yields enough for around ten lattes)
Pour sesame seeds into a pan and toast on medium-low heat. Swirl them around in the hot pan and take off heat once they smell aromatic, about 4-6 minutes. Be mindful of temperature as they warm up because you won't be able to tell by color if they burn.
Remove from heat. If you want a more textured latte, you can transfer them to a blender and blitz until pulverized into a powder. If not, keep them in the pan and move to the next step.
Add the water and sugar to the pan with the sesame. Heat and stir until the sugar is completely dissolved. If you kept the seeds whole, strain the syrup.
Allow to cool and transfer to a sealable container. If your syrup is a little thicker than you'd like, just mix in a splash of water until your desired consistency.
To assemble your latte:
Spoon 2-3 teaspoons of the cooled syrup into a glass filled with ice.
Pour milk over top and stir to combine.
Add 1 or 2 shots of espresso, stir once more, and enjoy!