Summer camp, a rite of passage for many a pre-pubescent youngster. Who doesn't fondly recall the taste of bug juice, the peppery scent of inhaled pool water, or the nagging sting after one too many tetherball games?
For those who never had the chance to experience astroturf rug burns on their knees or taste the delicacies of the mess hall, enter Likeminds: a weekend-long retreat where really big kids (read: adults) descend on an upstate New York campground. For three days and two nights, attendees enjoyed a variety of niche workshops, chef-catered cuisine, and — thanks to yours truly — a near-endless stream of fresh-as-the-Adirondack-air espresso.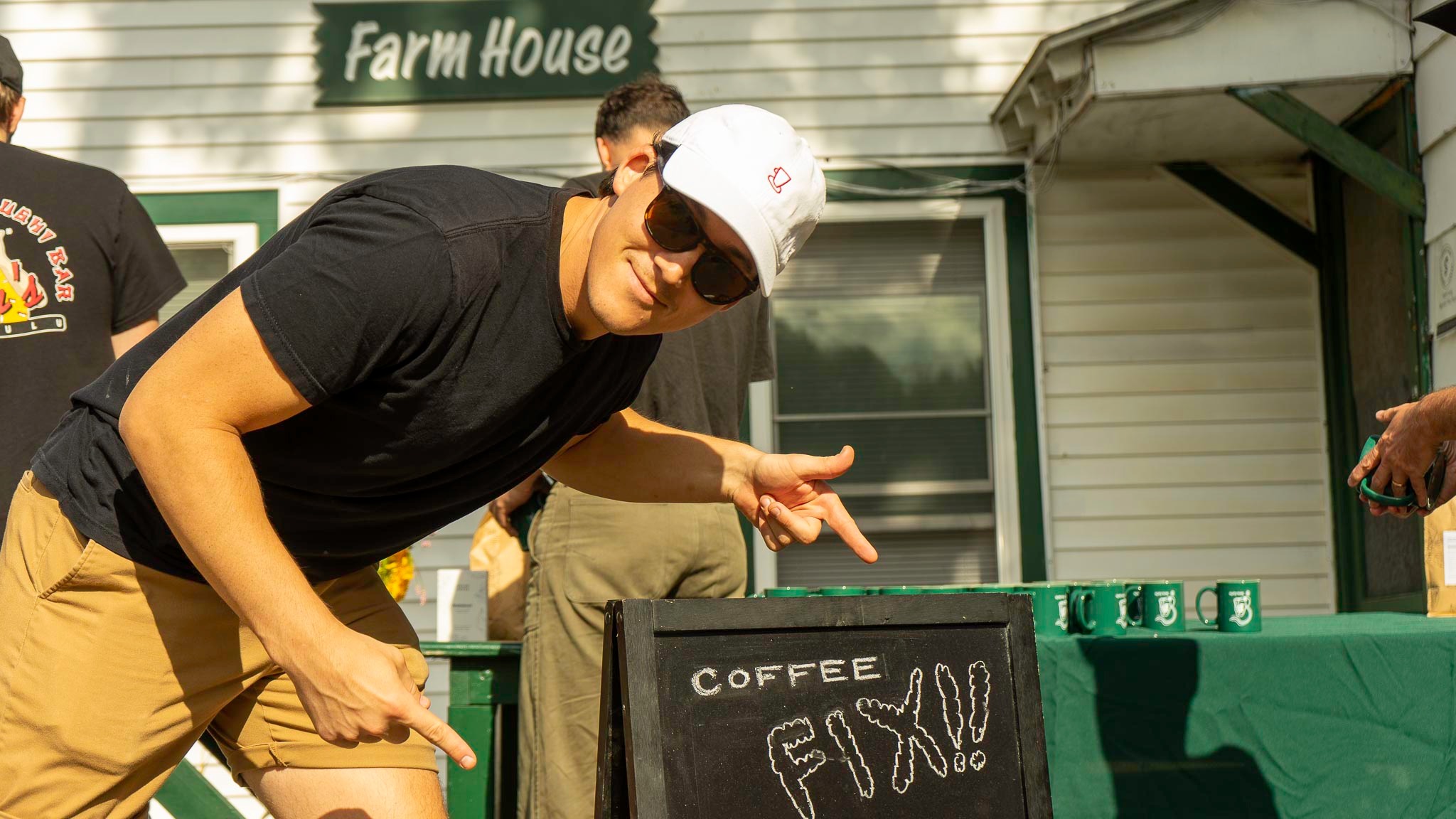 We came prepared to give the people what they wanted — fresh brewed espresso around the clock.
We landed at Camp Schodack on a Friday evening. Our car was filled to the brim with everything a caffeinated camper needs: 10 pounds of Parlor coffee beans, four members of the TK staff, and three TK-01s. While we wouldn't be serving coffee until the wee hours of Saturday morning, Likeminds was in full swing. Campers were getting their bunk assignments, swapping stories around the proverbial campfire (beer keg), and lining up for the dinner service. This whole weekend, we were treated to outrageously good food from Chinchakriya Un, head chef and founder of Kreung Cambodia, a Brooklyn-based catering outfit. From Sichuan-spiced chanterelle mushrooms and I-can't-believe-it's-not-beef kelp burgers to coconut yogurt with fresh peaches and chana masala with roti, the food was certainly a far (and joyous) cry from your typical campground fare. The campers were ravenous as they formed a line behind the hotel pans and salad bars, plastic plates in hand.
The rest of our first evening consisted of live music. Bellies full, we filed into the playhouse. Nathan Bajar performed a psychedelic jazz set and Wet followed up with their melodic indie pop musings. Campers filtered in and out between sets, stepping outside to get refills of beer or, for the more adventurous, the jungle juice fountained through a colony of different (non psychedelic) mushrooms, a la Smallhold. This reporter unfortunately cannot produce a firsthand review of the concoction. Supposedly, it tasted like jungle juice (the mushrooms had more of an aesthetic effect than a flavoring one).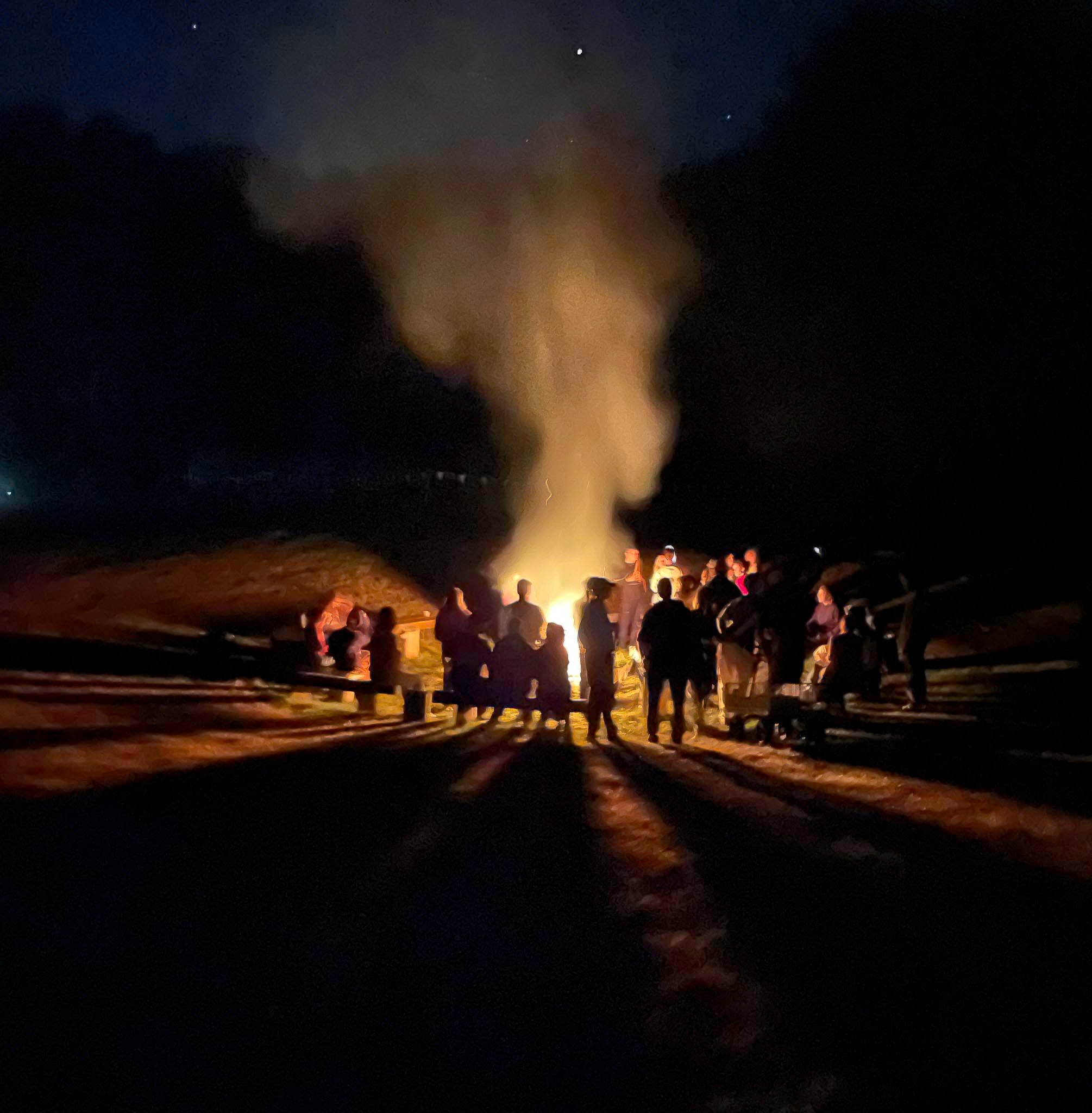 Between music and bonfires, campers gathered 'round.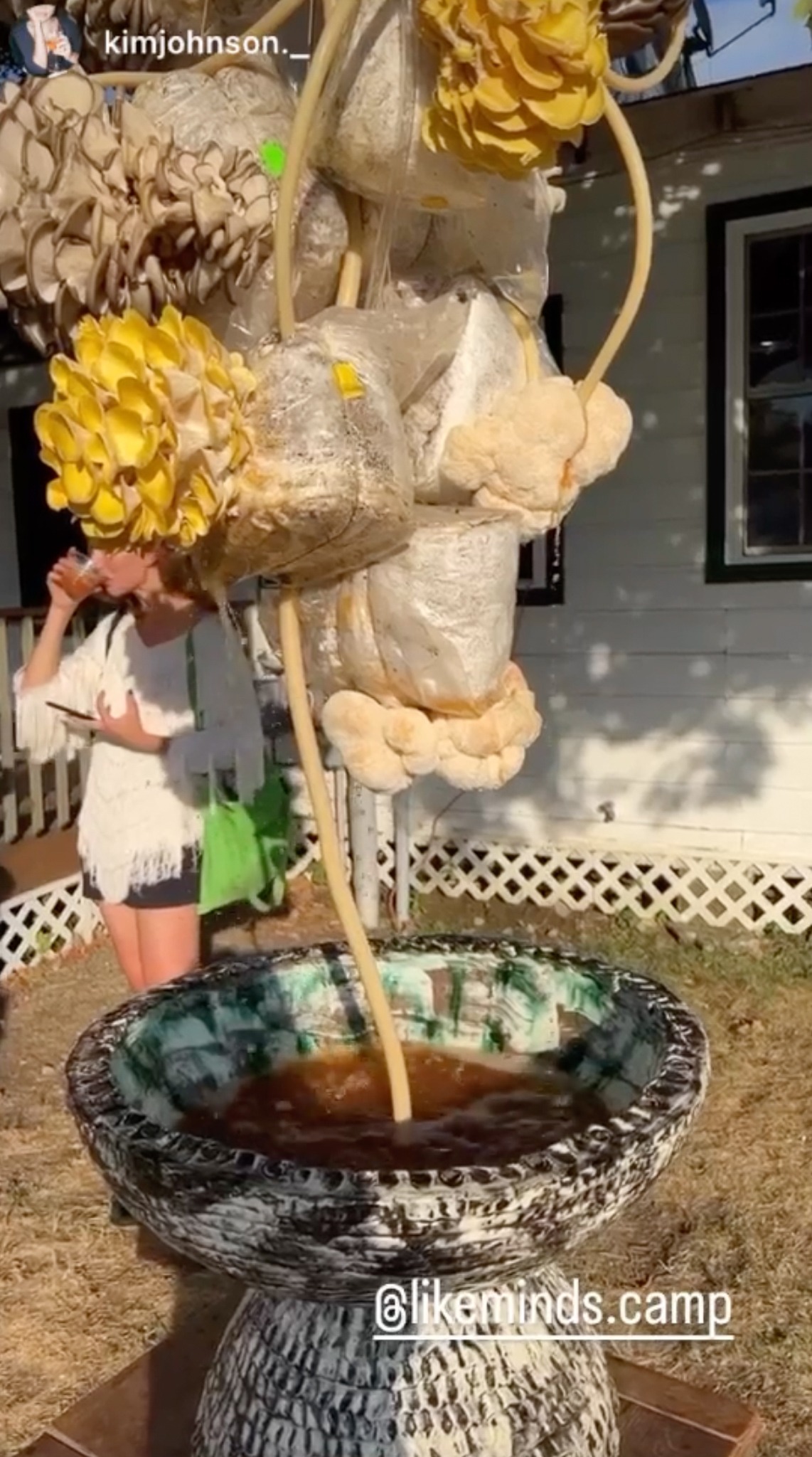 The infamous mushroom fountain. Photo courtesy of @smallhold
The next morning, we didn't get the benefit of the rooster's morning call. Instead, campers were lulled awake by the aroma of espresso. We brushed our teeth and donned our sunscreen for a 7 AM shift outside the dining hall. Not only would attendees be treated to coffee, but also their own branded Terra Kaffe x Likeminds mugs, which they could use for the rest of the weekend and take home with them (because the best thing about camp are the memories). We came prepared with pounds of not only fresh Parlor coffee beans, but also a supply of cold brew. Before long, the line extended well beyond the dining hall.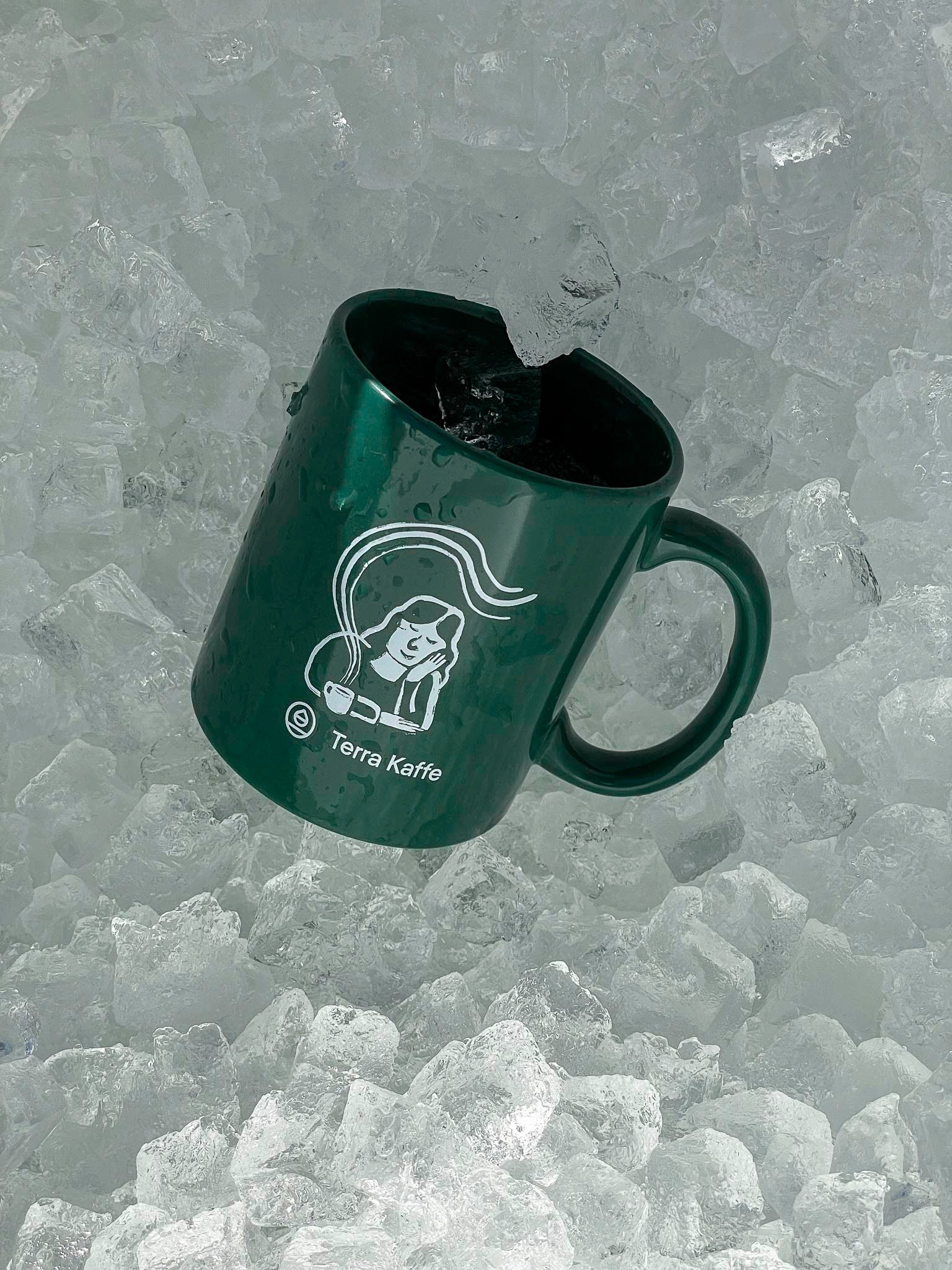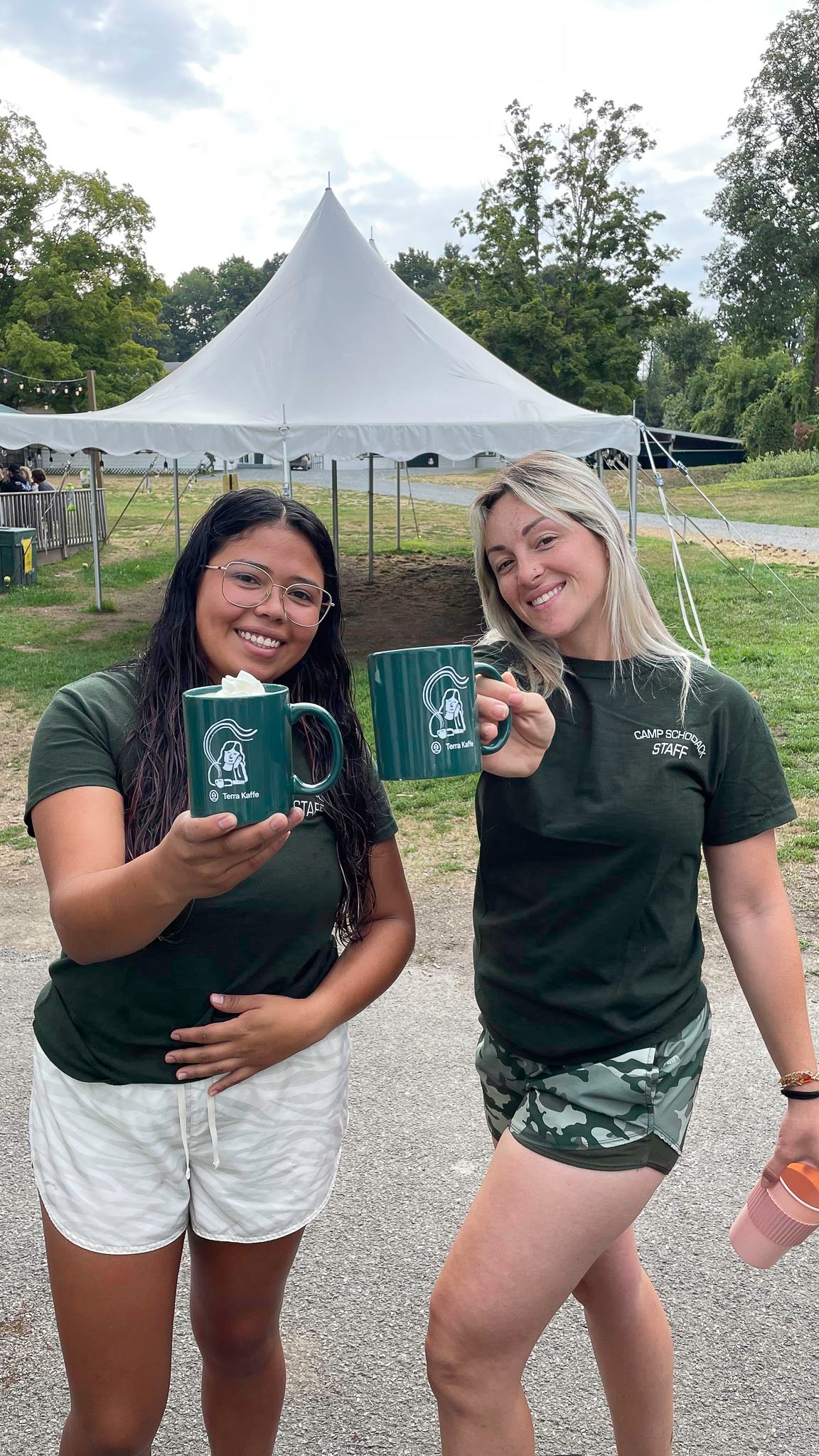 Everyone walked away with their own Terra Kaffe mug!
And because the number of the day's events was nearly innumerable, here is an incomplete list of the activities the Terra Kaffe staff found themselves enjoying:
Pickup soccer
A workshop in vinegar making, led by Tart Vinegar
A typography seminar with Jeremiah Chiu
Swimming
Drink & draw with Heavy Manners
Tetherball (our wrists are still bruised)
Snacks courtesy of Farm to People
Yoga
Pursuing the popup bookshelves of Heavy Manners Library
Mid-day coffee service courtesy of yours truly.
And the list goes on.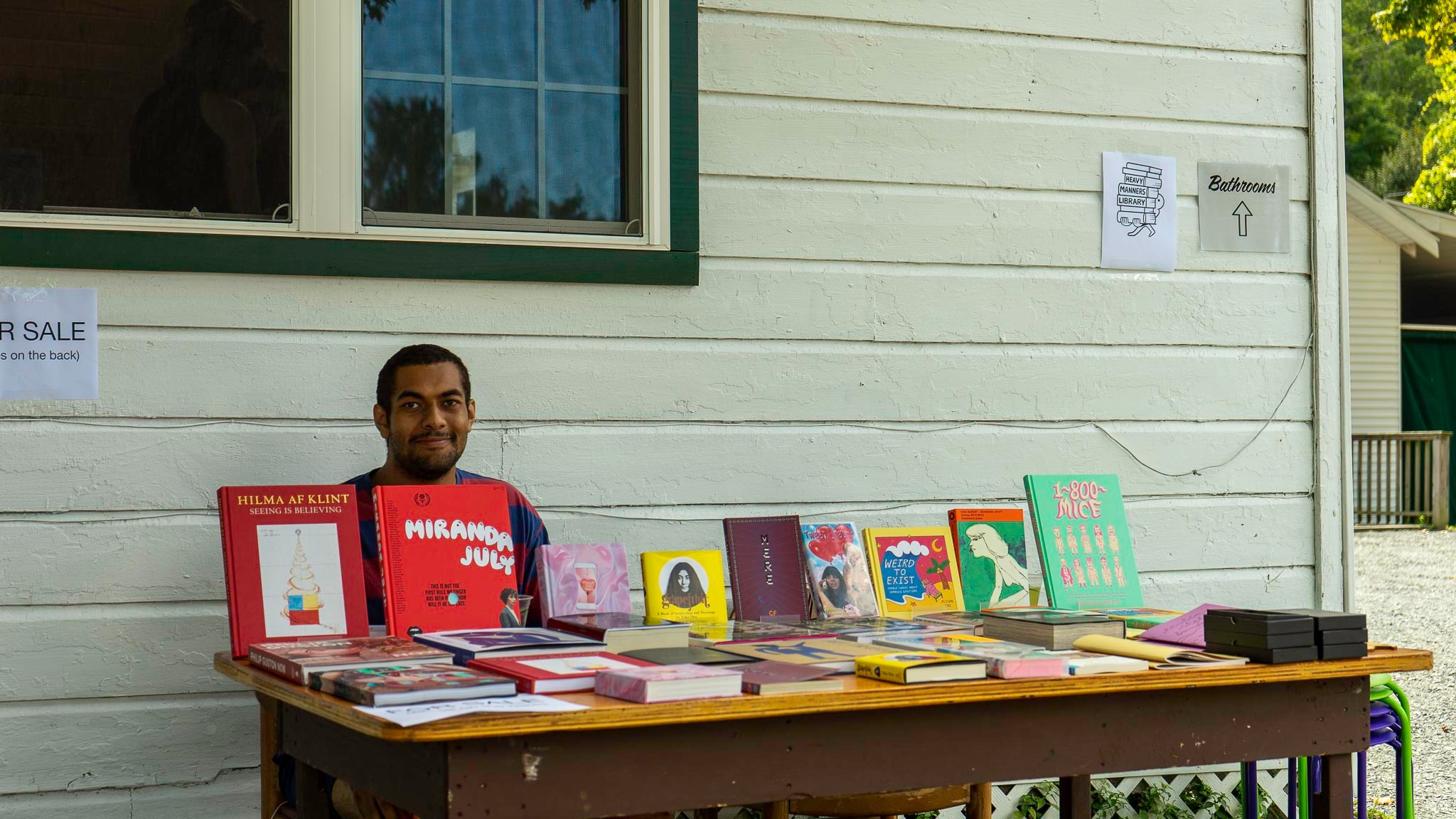 Heavy Manners Library set up shop with a collection of eclectic reads to borrow or purchase.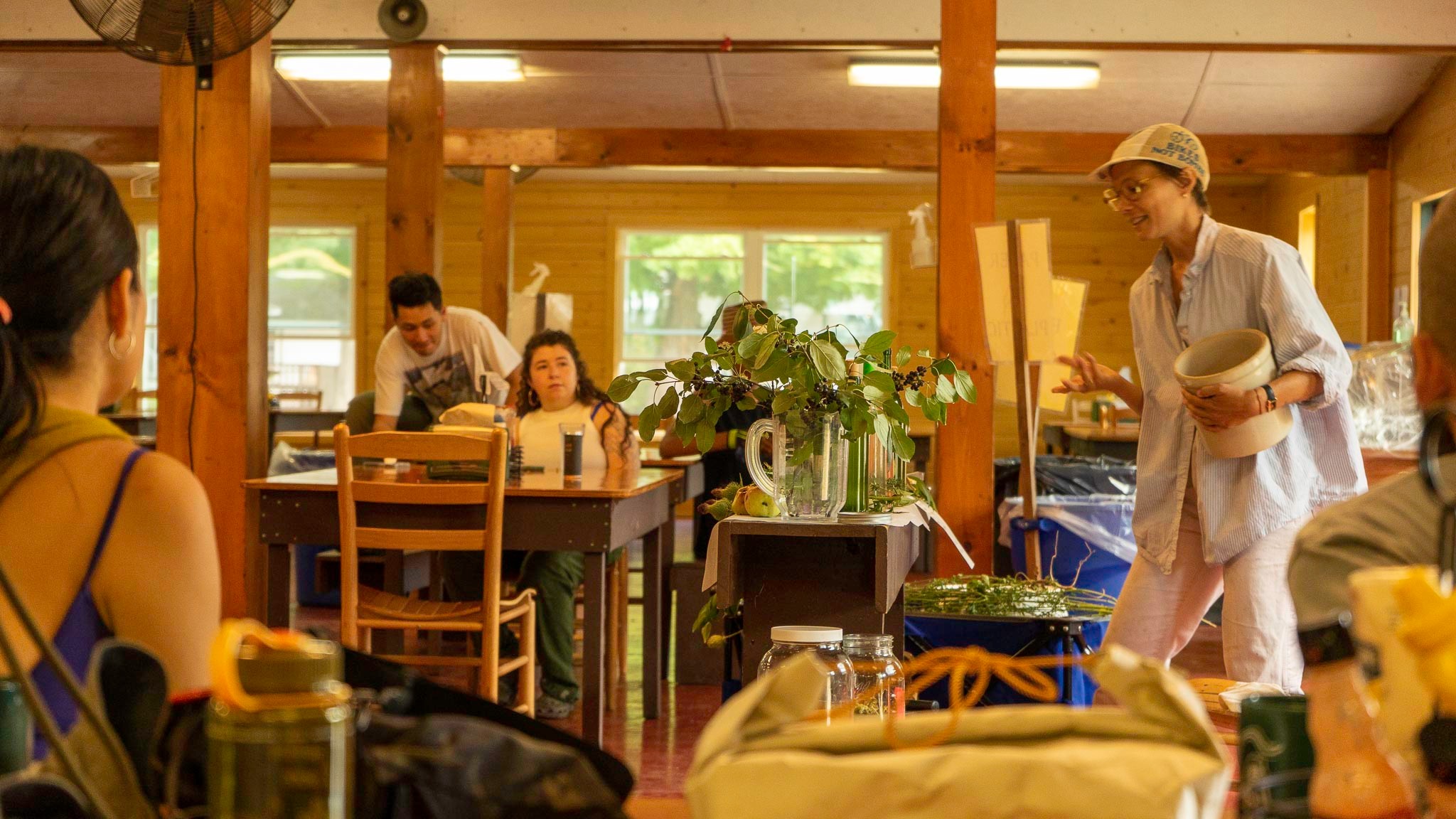 Tart Vinegar demonstrates the vinegar making process.
After another scrumptious dinner by Kreung Cambodia, it was time for us to spring into action once again. While pulling espresso shots for 300 campers had become second nature to us at this point, we knew we had to dial it up and surpass expectations. And we did that the only way one can ever improve upon espresso — by adding ice cream.
Van Leeuwen came with 6 buckets of their signature flavors, so it was time for us to join forces and create affogatos, the ultimate summer treat. One-by-one our assembly line of scoops and shots worked like a well oiled machine (or, better still, a well-caffeinated one). Campers lined up and yet again formed a queue that extended out of sight (it was so long, in fact, that we got in trouble for diverting traffic from the simultaneous music show that had just started. A good problem to have, if you ask us). For the uninitiated, an affogato can be best described as a hearty scoop of ice cream surrounded by espresso. It really is that simple, and more delicious than you could ever imagine. The coffee is not a syrup, so you don't want a drizzle. You want a full pour. Our personal creddo is that the scoop should be "swimming" in the espresso. Anything less is a travesty.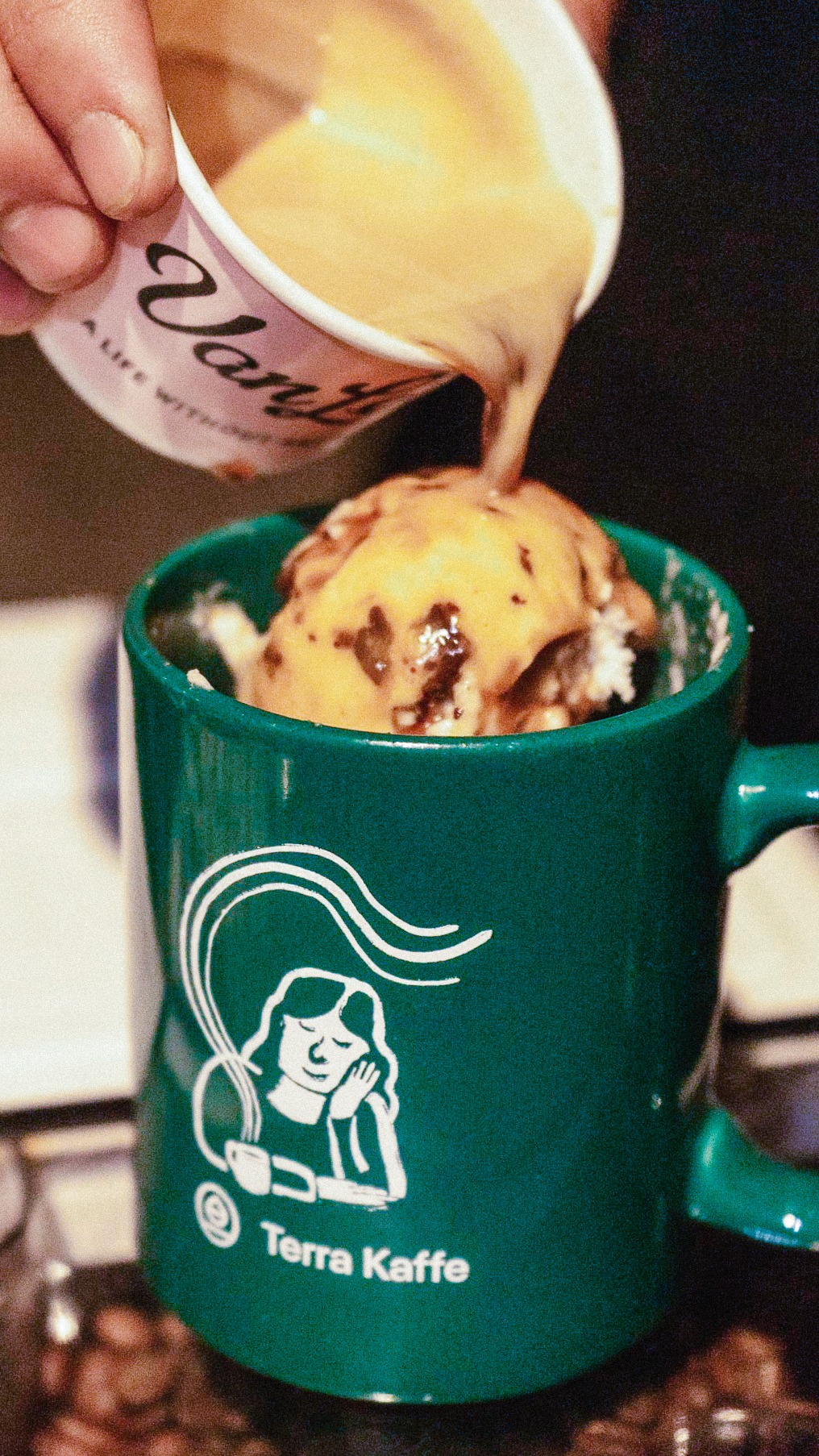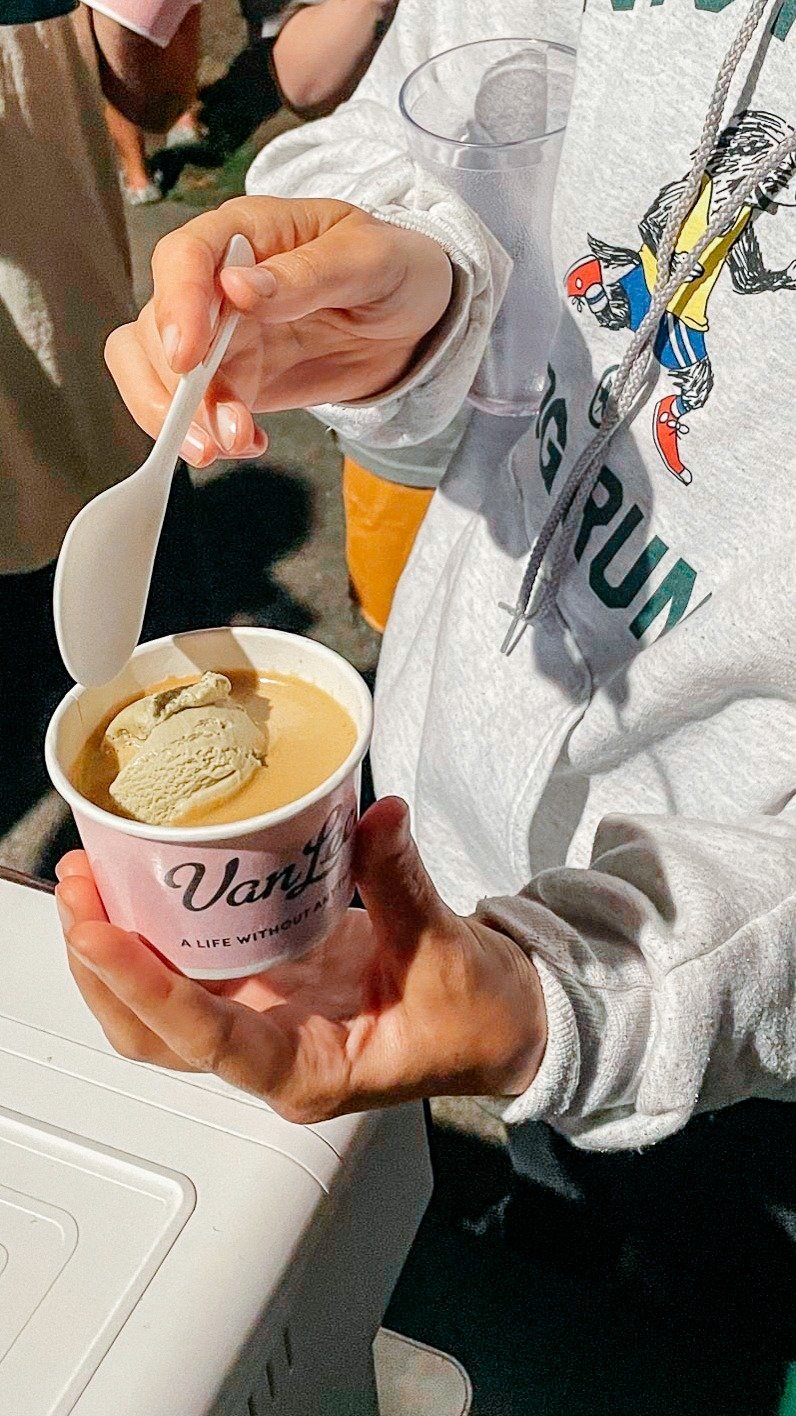 As it turns out, serving sugar and coffee right before a music show (which shortly thereafter turned into a dance party — you're welcome), is a great idea. Energy was high, smiles were wide, and the music was groovy as all get out. Ouri, Doss, and Love Injection closed out the night, and with that, we closed down our TK-01s. Until Sunday morning, of course.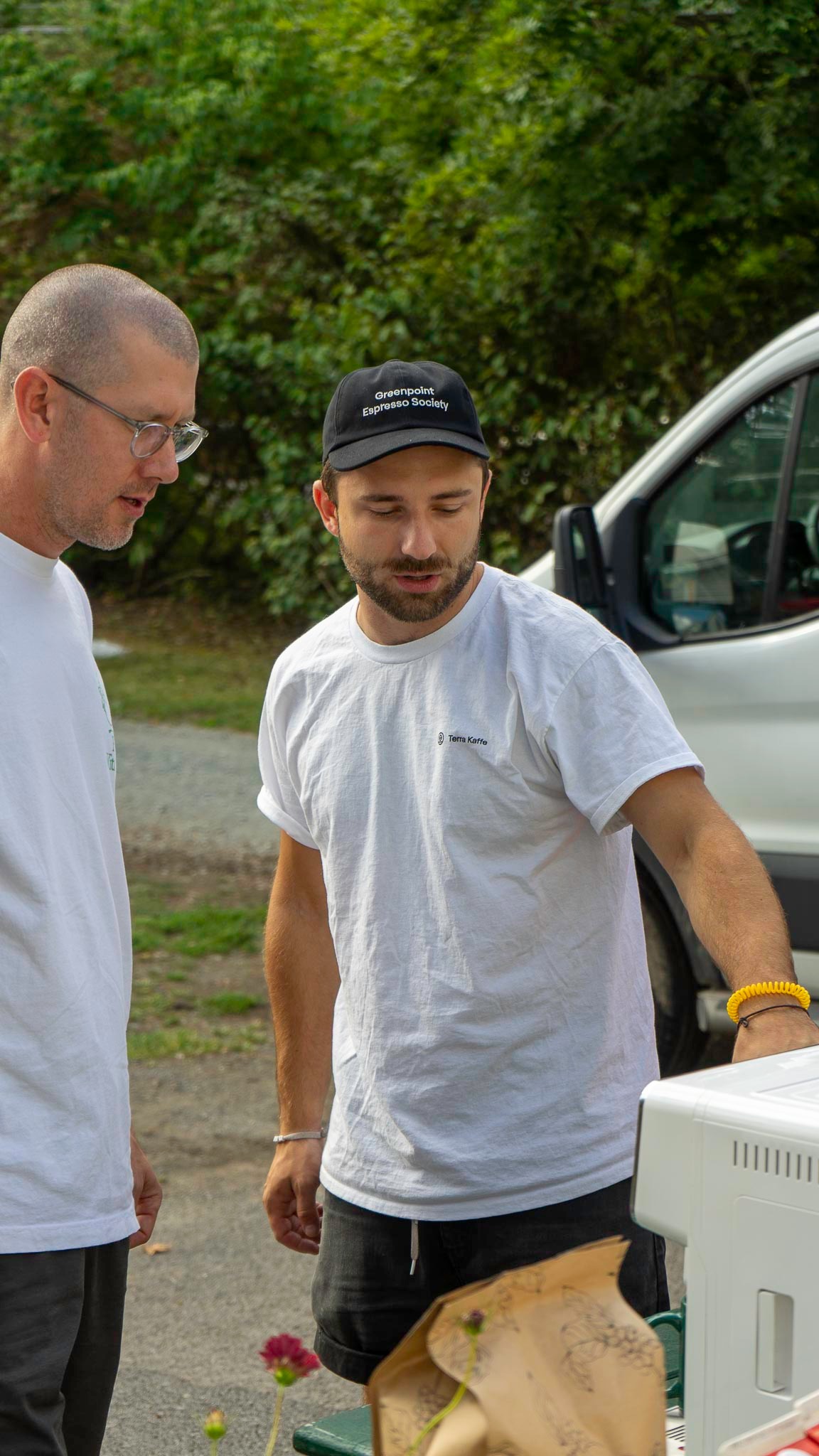 All good things must come to an end. We said our goodbyes and pulled the last hundred or so shots as the campers collected their bags and headed to the buses back to the Amtrak station. As for us, we cleaned off our barista bar, handed out the remaining green mugs to those who hadn't yet claimed theirs, and filled our car with our nearly empty bags of beans, TK-01s, and ourselves. We headed back to Brooklyn, until next time. We're always looking forward to summer camp.
You can learn more about Likeminds and an in-depth recap of the weekend on their website.