If you haven't caught us strolling down the streets of North Brooklyn this summer, allow us to formally introduce our latest in groundbreaking coffee technology — the TK Cart. Because the only thing more impressive than push-button espresso is pushcart espresso. That's espresso with an extra layer of expediency. Espresso on the go, if you will.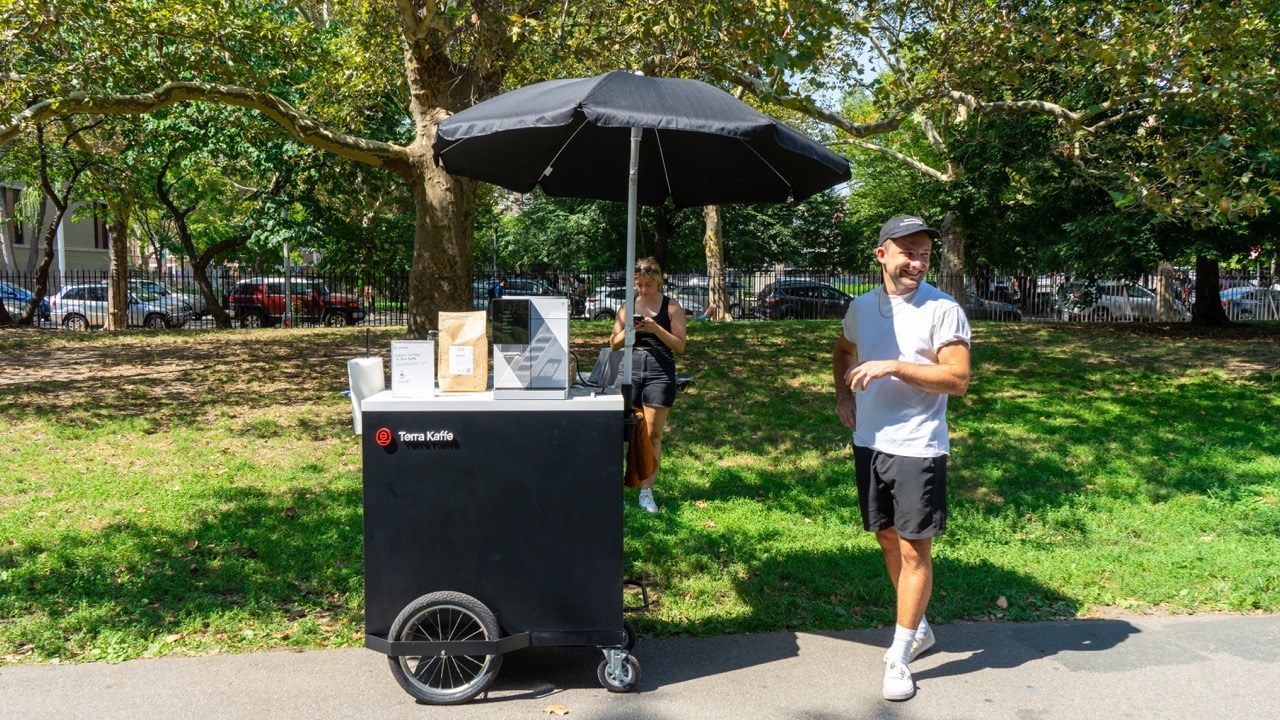 Lenni stands next to the TK Cart, ready for thirsty parkgoers!
This past week, we took the TK Cart to the McCarren park in Williamsburg to demo TK-02 to our local pre-order customers and any other parkgoer who needed a pick-me-up. The entire TK team headed from our office to Greenpoint with the cart, TK-02, ice, milk, sunblock, and a LOT of coffee beans.
Once we were all set up, we spoke with passersby and TK-02 pre-order customers alike about the machine (and of course served some refreshing iced coffee as well). Here are some of our favorite moments from the event:
Our VP of Creative Talks TK-02 Design
Lenni, the lead designer on TK-02, walked plenty of interested coffee lovers through the design that went into TK-02. From determining its form factor to deciding the layout of the touchscreen, Lenni answered tons of questions about why we build TK-02 the way we did. One of his favorite design choices? Placing the often-used doors for the water tank and waste bin on the front of the machine, instead of the sides. This way, TK-02 can fit in even smaller spaces, since you don't need to worry about side clearance. Even the busiest countertop is no match for TK-02s impressively nimble size.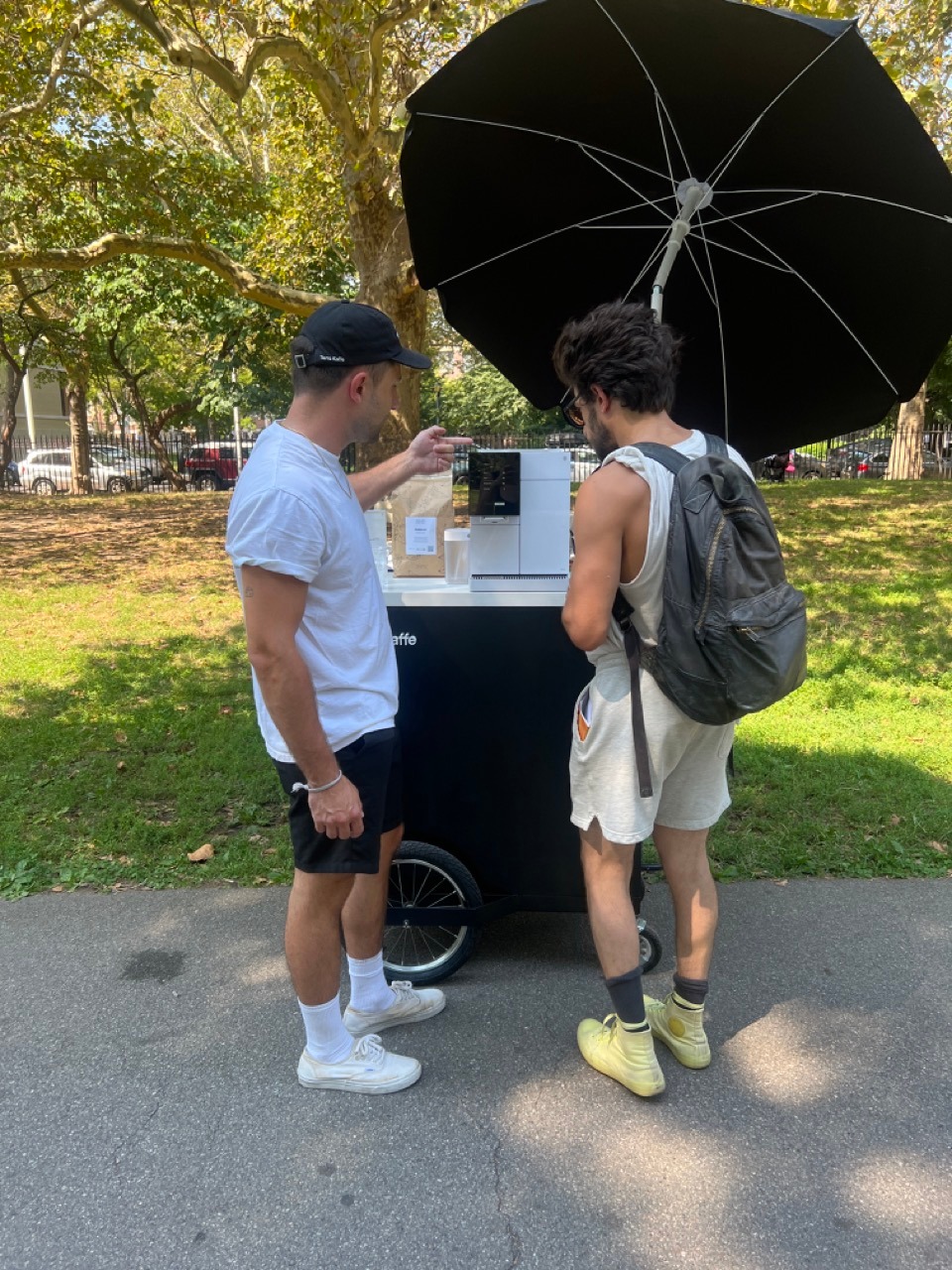 Lenni shows off the impressive TK-02 touchscreen.
Excited Pre-Order Customers Make Their First Drink!
For many customers, this event was the very first time they had the chance to physically engage with TK-02! Being able to touch the sleek, responsive touchscreen and see an iced Americano brew in moments was a sight to behold. We're so used to it at this point, it's amazing to see first-time users watch in awe as their coffee goes from bean to cup in just a single tap.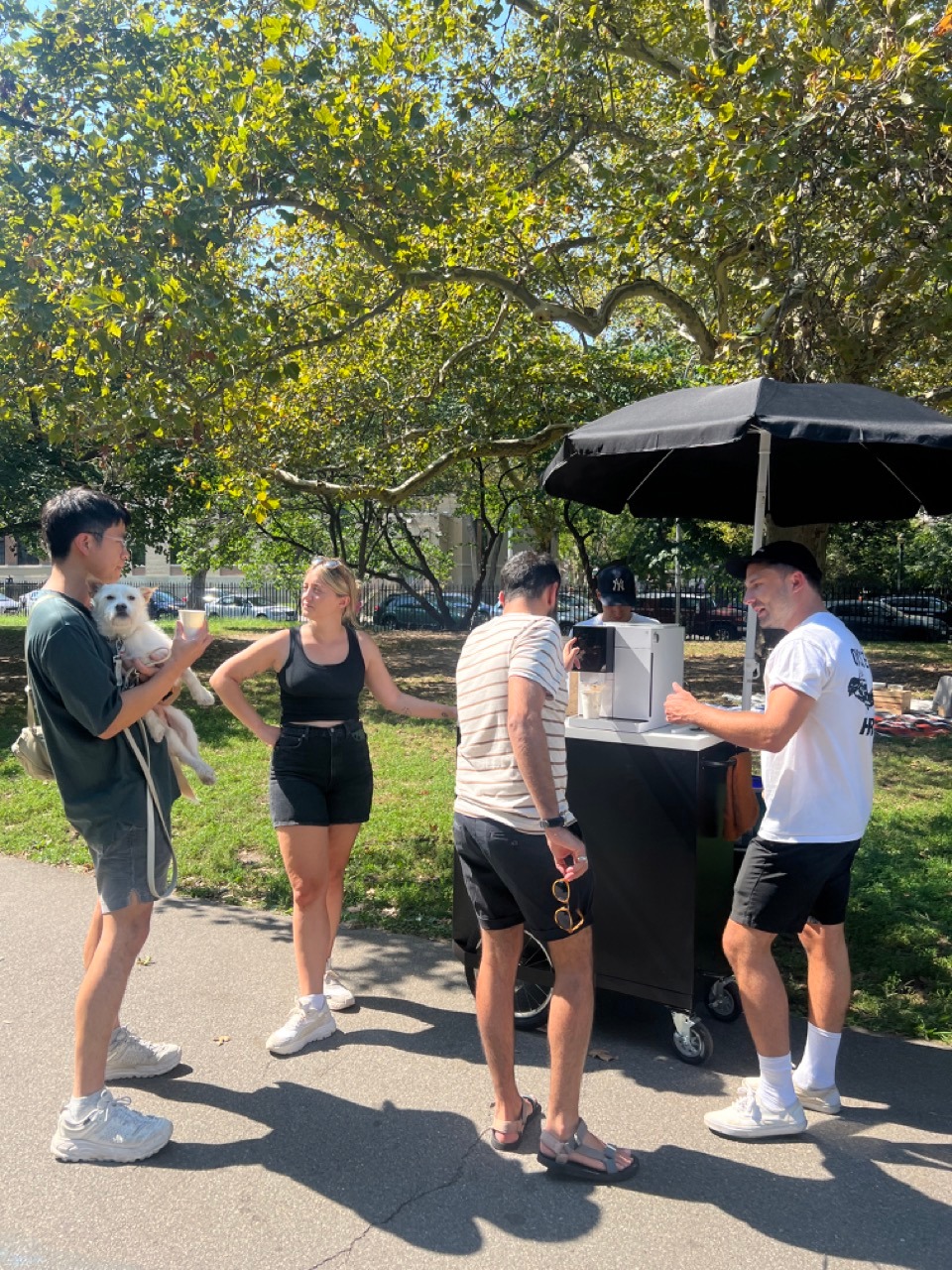 BK residents gather around the TK-02 to see how it works.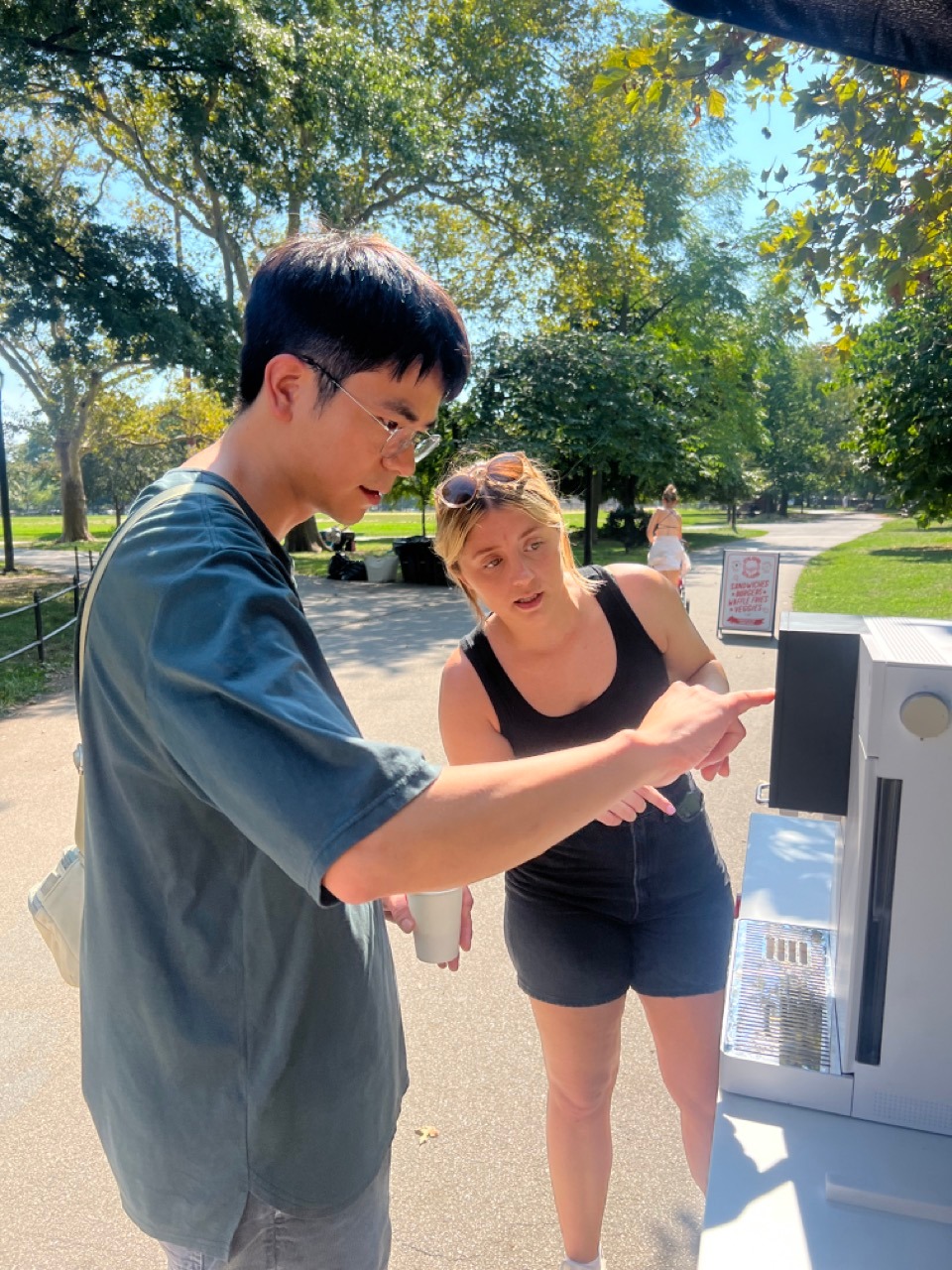 Delaney shows a curious fan how to brew a drink with just a tap!
TK-01 Owners' Feedback Inspires TK-02 Features
One of our favorite parts of hosting this park event was not just speaking with TK-02 customers, but also TK-01 customers — longtime fans of Terra Kaffe who are excited to fall in love with their next coffee machine all over again! We loved showing off TK-02 and explaining just how much of its design and functionality was based directly on user feedback from TK-01 owners. It's true! TK-02 is not simply the next evolution of coffee technology — we built it from the "grounds up" based on meticulously collected responses from our TK-01 owners.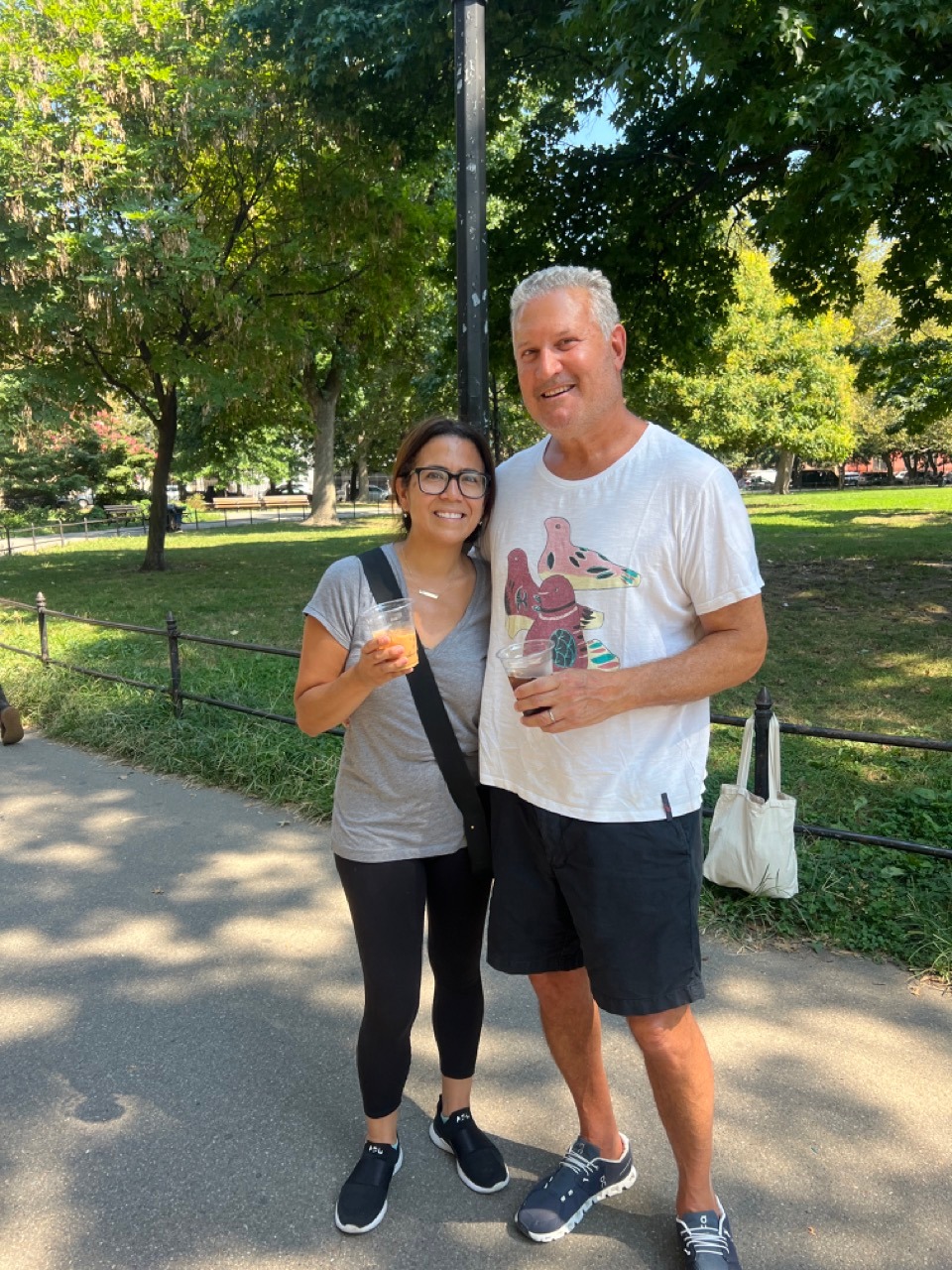 Two people stand in the park smiling with their coffees.
Miss us at the park? We'll be headed all over New York City to bring TK-02 to the masses. Make sure you're following us on Instagram to keep up to date on where to find TK-02 next!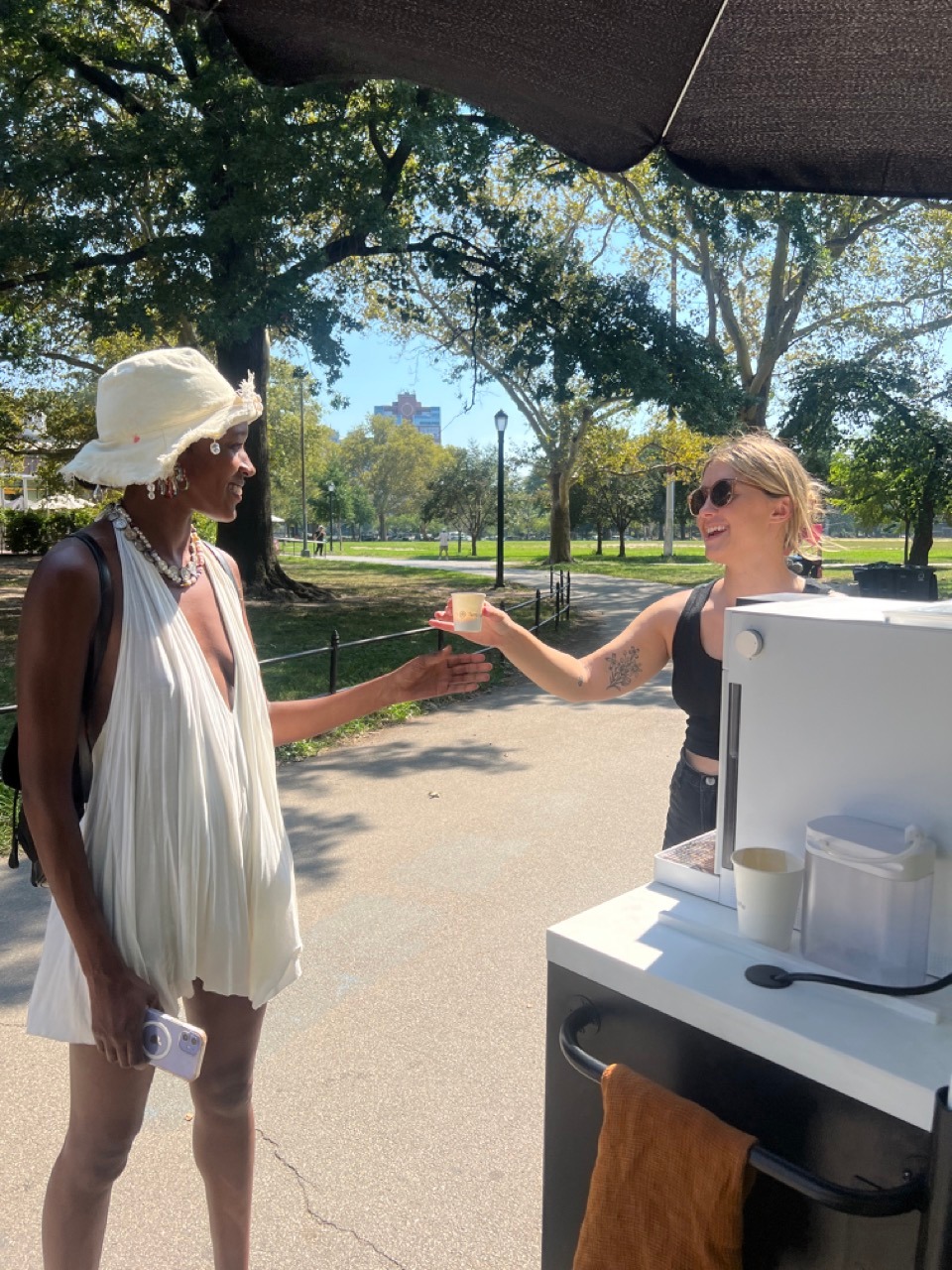 Delaney hands an espresso to a happy fan.