We went a wee bit mad with our latest recipe. We were sitting around the conference room, tossing around ideas. Just then, our intern, who was eating a chocolate-dipped ice cream cone, dropped their summertime treat into their glass of espresso. We all gasped (I fainted), and the room became quiet. After I came to, it hit me: what if we mixed ice cream and espresso? An idea that has surely never been done before.
Then, the intern (to their credit) reminded me that that's called an affogato, and has been done a million times before. They went on to explain that we should probably aim a little higher, by mixing espresso into as many ice cream ingredients as possible.
Mix it into the ice cream itself. BOOM — Vanilla breve ice cream. Add some coffee liqueur to the caramel. TA-DA — Boozy coffee caramel sauce. Infuse it in a chocolate shell. WHAM — Mocha magic shell.
At the thought of all that, I almost fainted again BUT I also was inspired. So here's what we ended up with:
Special Equipment
Ingredients (yields 3 sundaes)
Vanilla Breve Ice Cream
1 pint vanilla ice cream (we used Van Leeuwen!)
2 shots espresso
Boozy Coffee Caramel Sauce
1 cup granulated sugar
2 tablespoons water
1/4 cup atōst coffee liqueur
6 tablespoons unsalted butter, cut into pieces
1/2 cup heavy cream
1 teaspoon vanilla
Pinch of salt
Mocha Magic Shell
1 cup milk chocolate chips
1 shot espresso
3 tablespoons coconut oil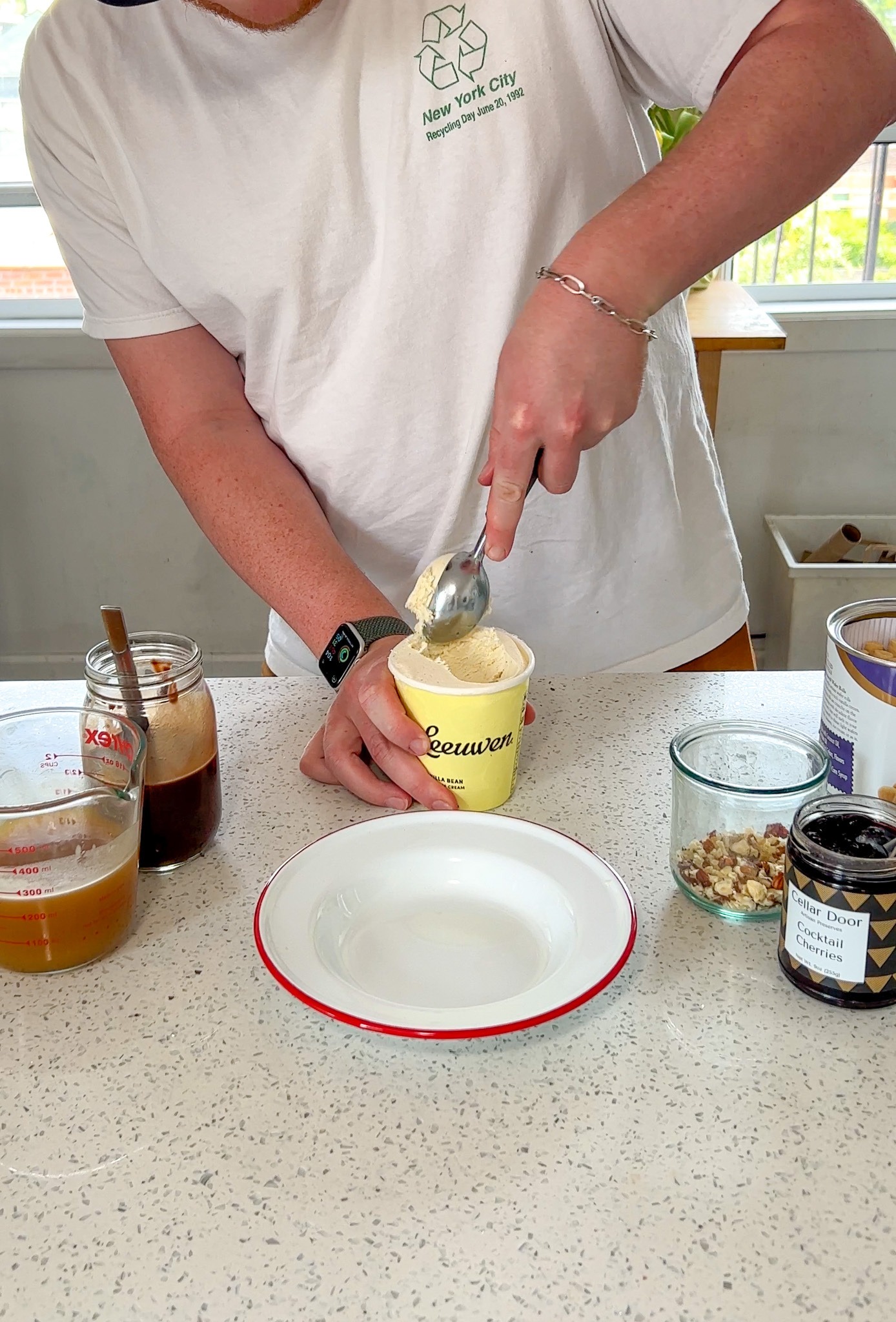 Directions
Vanilla Breve Ice Cream
Allow your ice cream to sit on the counter for about 10 minutes to melt slightly. You want a pliable (but not completely liquified) ice cream. Eat a few spoonfuls off the top to make room 😊.
Empty the contents of the pint into a large mixing bowl and add in your espresso. You can use fewer or more shots, depending on how coffee-flavored you want your base.
Fold the espresso into the vanilla ice cream until incorporated, but don't worry if it's streaky. (The less melted your ice cream, the better).
Carefully return the espresso-ice cream mixture to its pint and refreeze until ready to use.
Mocha Shell
Melt the chocolate in a small metal bowl set over a pan of simmering (not boiling) water. Stir in the espresso.
Stir in the coconut oil and heat until melted and fully incorporated. Keep the liquid slightly warm until ready to use. As soon as the sauce comes in contact with the cold ice cream, it will harden instantly.
Boozy Coffee Caramel Sauce
Add the sugar and water to a 3-quart heavy-bottomed saucepan. Ensure the mixture sits in a flat, even layer.
Heat over medium and cook until the sugar dissolves, and begins to bubble, about 4 minutes.
To prevent crystallization, do not agitate the mixture further by mixing. Instead, swirl the pan gently during the cooking process. Continue swirling until the mixture thickens and turns a deep amber color like honey (8-12 minutes). Turn down the heat if the mixture starts to burn.
Add the butter and whisk until completely melted. The caramel bubbles will expand quickly, but be careful and continue to whisk.
Remove the saucepan from heat and slowly pour in the cream, whisking continuously.
Whisk in the vanilla, salt, and coffee liqueur. Set aside for 10 minutes to cool.
Transfer the cooled sauce to a lidded glass jar. It will thicken as it continues to cool.
To assemble your sundae:
Spoon 2-3 scoops of your breve ice cream into a bowl or sundae dish.
Pour warm mocha shell sauce over top and wait for it to freeze.
Drizzle caramel sauce over top in thin bisecting lines (or do entire dollops if you're feeling crazy!)
Garnish with your favorite toppings (we like pirouettes, chopped hazelnuts, and Luxardo cherries), and enjoy!