If you've ever had the opportunity to chat with our Customer Experience (CX) team, you likely already know that we aim to provide the most thoughtful and personalized support for every customer we help. There is almost no question about the TK-01 or TK-02 that we can't answer — whether you're looking for help making your perfect drink or would simply like to know more about how your machine works, you can always count on our team to go above and beyond to make sure you have the best brewing experience.
One of the secrets to our success is the variety of skills that the CX team has to offer, reaching far beyond just a knack for tech support and conversation. Most notably, a number of us have previous experience as baristas, which brings a deeper understanding of coffee and brewing technique to all of our customer interactions. Their knowledge has helped the team to better understand the science behind espresso brewing. This, paired with an intimate knowledge of TK-01 and TK-02 allows us to best advise on crafting the perfect cup for a variety of flavor preferences and palates.
As I spent more time helping our customers and working alongside the rest of the team, I found myself having a number of conversations with folks who were interested in purchasing coffee beans from our Roaster Roster, but were unfamiliar with the offerings and weren't sure where to start. While the rest of the team and I had tried each of the coffees and knew our own personal favorites, we realized that we had a unique opportunity to educate our customers and guide them on the journey to find their favorite coffee.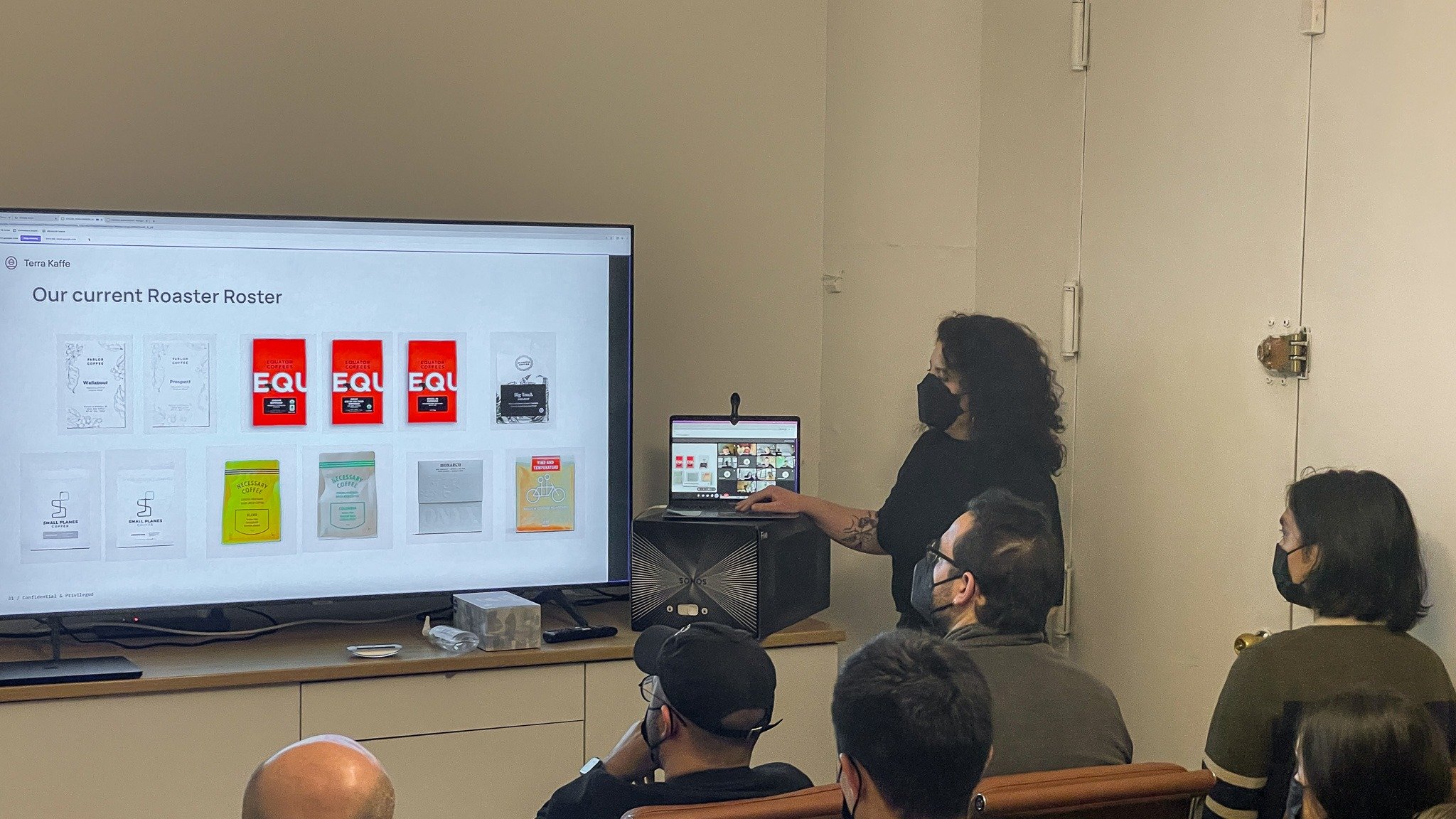 Amanda shares her process with the larger Terra Kaffe team.
Treating this as another opportunity for us to improve the customer experience, after conferring with our team baristas, I proposed hosting a series of espresso tastings for the CX team. I hoped that these tastings would give our team the chance to sit down together, consider our coffee offerings more critically, and form processes that would help us give more personalized answers when asked "which coffee would you recommend?".
Over a number of months, the CX team got together in our office to enjoy the best beans Terra Kaffe has to offer (which is all of them). We analyzed flavor, scent, and body, we determined whether they worked well with milk, and — most importantly — we thought about our previous coffee conversations with TK-01 or TK-02 users and considered who we would recommend each of the beans to. These sessions were a great opportunity to refresh our knowledge as a team. With each session we discovered a newfound appreciation for the quality and complexity of the beans we offer.
Curious about which beans might suit your daily routine best? Based on our team-wide tastings and analysis, here are our recommendations:
For the latte lovers:
Do you like to start your day with a latte or cappuccino? Is your espresso not the same without a tall glass of ice and your favorite oat milk? We've found that easy-drinking, balanced coffees with classic tasting notes and moderate to low acidity blend beautifully with any milk you choose.
If you're interested in trying something new:
If you're a long-time espresso drinker who hasn't ventured into the world of specialty coffee just yet — and you'd like to introduce some new flavors into your routine — we've got you covered! We have a number of coffees that will provide a unique, modern espresso experience while still being approachable and easy to integrate into your mornings.
If you consider yourself a coffee connoisseur:
We loved the bright, bold flavors that these beans brought to the table, and we think anybody interested in modern specialty coffees would enjoy them just as much. If you're a fan of espresso with notes of citrus and florals (and you usually take your shots on their own), we think any of these coffees would fit right into your rotation!
If you like your espresso dark & rich:
We don't recommend using super-oily beans (that many dark roasts tend to exhibit) in any super automatic espresso machine. Luckily, these beans provide flavor and body that are just as deep, chocolatey, and rich without the high oil content that we're looking to avoid. If you usually buy "espresso roasts" or French roasts, these beans are for you!
Not quite sure what you're looking for?
After we finished tasting the full Roaster Roster, the Customer Experience team agreed across the board that these coffees were true crowd-pleasers to make any kind of coffee drinker happy! The flavors are rich and exciting without being overwhelming, work just as well with or without milk, and they've been designed by their roasters to be easy-drinking and well-rounded.
Because the CX team is often the first point of contact, it's my hope that with our cache of coffee comprehension following these tastings, we'll be able to go above and beyond to help customers who want to learn even more about our coffee offerings before they make a purchase.
After taking these steps to synthesize the flavors and notes within our Roaster Roster, we're more excited than ever to chat with you about all of the delicious beans we have to offer. So if you've ever found yourself wondering which coffee you might like to brew with your TK-01 or TK-02, just give us a ring, and we'd be happy to help you make your choice!
Curious to learn more about all that goes into your perfect cup? Check out our other coffee education articles like: understanding different roast levels and keeping your beans fresh.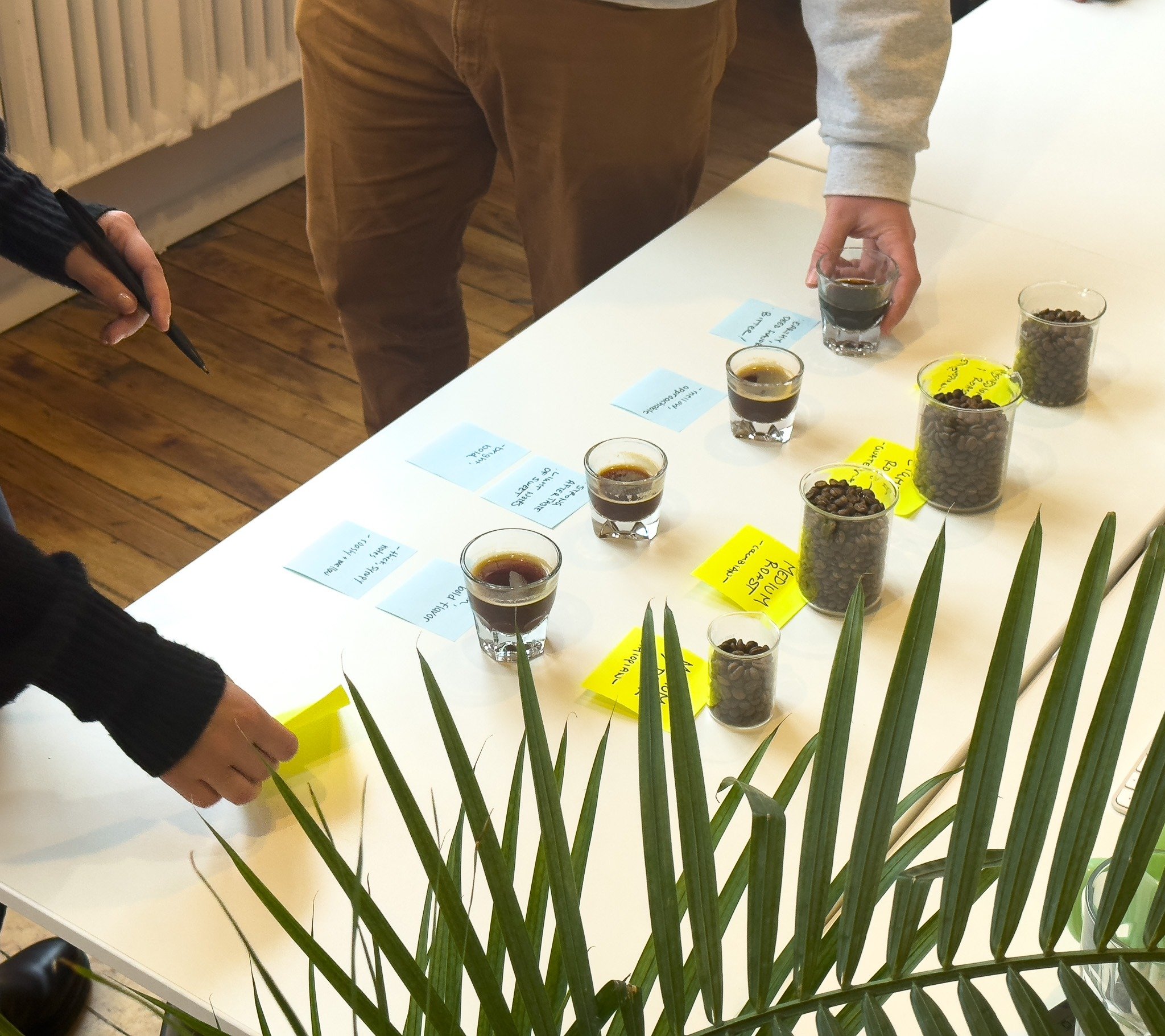 Members of the Customer Experience team will meet, taste, and evaluate every coffee that makes it to our Roaster Roster.