Like a lot of home appliances out there, the list of espresso machine options can oftentimes feel never-ending. Between manual, pod-based (Nespresso and Keurig), built-in, and prosumer options, the sheer range of machines is about as head-spinning as if you sampled an espresso shot from every single one of them. Super-automatic espresso machines (often referred to as "superautos") are a great choice for those who want both the customization and control of the classic, manual machines (without the exorbitant price tag or fussiness) and desire a step up in quality from wherever they're used to getting their morning coffee.
We'll get into more detail below as we share five major reasons you should switch to a superauto.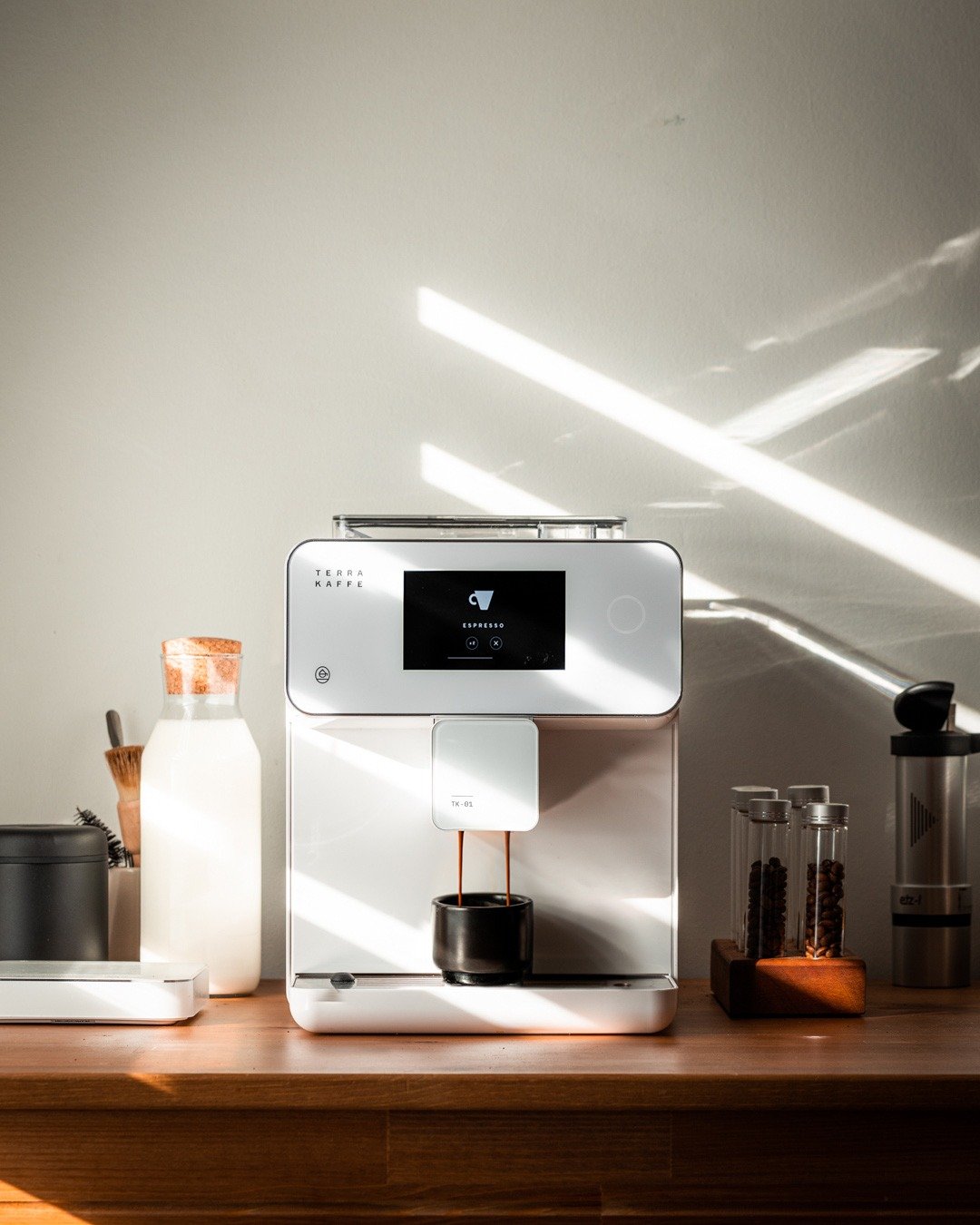 1. The automatic X factor
When it's early in the morning, and you just want your coffee made fast, the last thing you want to do is work for it. The number one feature of superautos is just how much they take off your plate.
TK-01 has a super intuitive touch screen that allows you to enjoy espresso, lattes, cappuccinos, and Americanos with the touch of a button. That means, no prep work navigating multiple menus before finally initiating a brew. Get your perfect brewing faster than you can say, "Wow, it's really that simple??"
2. The barista-level quality
Baristas are masters at their craft, and they have a soft spot in our hearts when they remember our usual orders. Machines like TK-01 take the precision and consistency of a great café and put that power at the tip of your finger, something that just can't be done with pod machines.
Starting with fresh ground coffee, tamping just right, and brewing with temperature-controlled water is no small feat of engineering. A superauto like TK-01 brews with the ideal 9 bars of pressure for a persistently tasty cup of coffee. Plus, if you're getting your beans as fresh as possible (like any good barista), the coffee quality is right on par with the craft café's. Throw in the included milk frother that works with any dairy or plant-based milk (oat milk, almond milk, etc.) you like, and you've got the coffee shop right on your countertop!
3. The surprisingly-affordable price (and how it pays for itself over time)
First things first, not all superautos are built equally, which also means they are not all priced equally, either. In fact, there are plenty of expensive espresso machines out there, many of which cost a pretty penny at $1,000 or more. The thing to know about these is that, for the most part, they have the same functionality as machines that cost hundreds of dollars less. Keep this in mind when shopping for a superauto! TK-01, for instance, has the same functionality (in some cases more) than its closest competitors, but at a fraction of the cost.
TK users who switch from Starbucks or pod systems note an improvement in coffee quality and find their machine pays for itself 2+ times over in a single year! TK-01 and TK-02 are masters of coffee quality. But they're also mavens of coffee efficiency, meaning they brew the highest quality coffee at a supremely affordable price, especially when compared to Nespresso and Keurig pods or coffee you buy at the café or drive-thru.
When you take the highest quality whole bean coffee out there (think around $17 for the good stuff) and determine how many shots of espresso that nets you on TK machines, that comes out to about $0.40 per shot. How does that contrast to comparable coffees from Nespresso pods? Around $1.25. And from Starbucks? $1.75, or even more from other coffee shops.
4. The easy cleanup + maintenance
While manual machines require you to dispose of your own spent coffee grounds and scrub with abrasive cleaners after every single use, thankfully, the same cannot be said of superautos. TK-01 and TK-02 have brewers that automatically remove the finished coffee and place it in an easy-to-remove waste bin. What's more, their screens (and app, for TK-02) let you know when it's time to toss your coffee in the trash (or compost!).
It will also let you know when to do a deeper clean with a quick message on the screen. All you need to do is pop in brewer cleaner or descaling powder, press start, and let the machine do all the work automatically.
5. The longevity
When an everyday home appliance is of premium build quality and is properly maintained, it can permanently upgrade your coffee rituals for years to come. Like any good investment, TK-01 and TK-02 are built to last, which means your transformed coffee setup pays dividends, for all the reasons above.
Another thing worth considering in the long term: because TK-01 and TK-02 brew from real beans (and not wasteful pods), you can use literally any coffee bean on the planet, instead of being locked into a restrictive system of capsules whose variety is pre-approved by that one machine manufacturer. How does the superauto system work better? For starters, your water only ever runs through fresh-ground coffee (instead of flimsy metal capsules), and you'll never tire of the same old coffee (pun intended — pod coffee can sit in capsules for months before being brewed).
Craving amazing espresso made right at home in seconds? Shop Terra Kaffe machines here